Fiorentina rename training ground in honor of tragic Davide Astori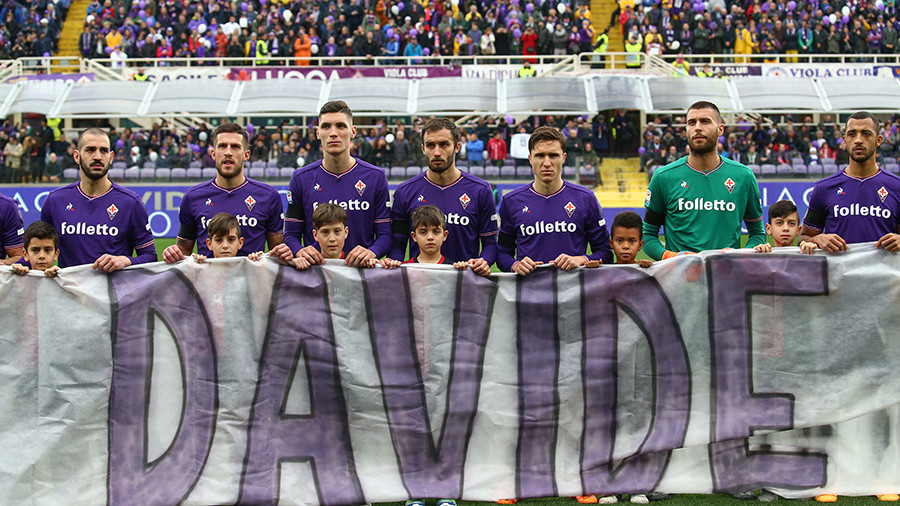 Italian football club Fiorentina have renamed their training ground in honor of late captain Davide Astori, who tragically died of a suspected cardiac arrest aged 31.
The club's training base will be renamed 'Sports Centre Davide Astori' in a tribute to the defender, who died suddenly in his sleep on March 4 at the team hotel before a game with Udinese.
Club president Mario Cognigni has confirmed that Fiorentina will rename their training ground in honour of Davide Astori.Centro Sportivo Davide Astori. 💜 pic.twitter.com/Q2ceVmyw76

— Squawka News (@SquawkaNews) March 19, 2018
The city of Florence, where the club he played for is based, declared a day of mourning to mark his passing following the news. All Serie A fixtures were subsequently postponed as a show of respect.
"The past week has been particularly difficult and I want to thank everyone for their shows of affection and understanding we received during this painful period," Executive President Mario Cognigni said.
"There was a sense of unity created within the world of sport by all who shared Davide's values and had the good fortune to know him. We want to dedicate our current training center to Astori, because it was his home. He even spent his time off there with his family.
"It will no longer be called Campini, but rather Centro Sportivo Davide Astori. This is just the first initiative we are taking to ensure we can feel this special person close to us every day and we are discussing the best ways to do that with his family and the local council."
Italian goalkeeping legend Gianluigi Buffon led the tributes to his friend Astori, calling him a "truly good person."
"Ciao dear Asto," Buffon began. "You were the best expression of an old-fashioned world, one that people have left behind, with values like altruism, elegance, politeness and respect towards others. Compliments genuinely, you were one of the best sporting figures I ever came up against. R.I.P. Your crazy Gigi."
Astori was capped 14 times by the Italian national team, scoring one goal for the Azzurri, and also previously played for AS Roma after rising through the youth ranks at AC Milan.
READ MORE: Florence turns purple as Italy mourns death of Azzurri star Davide Astori
You can share this story on social media: