FIFA lifts 28yr ban on Iraq international friendlies in place since Saddam invasion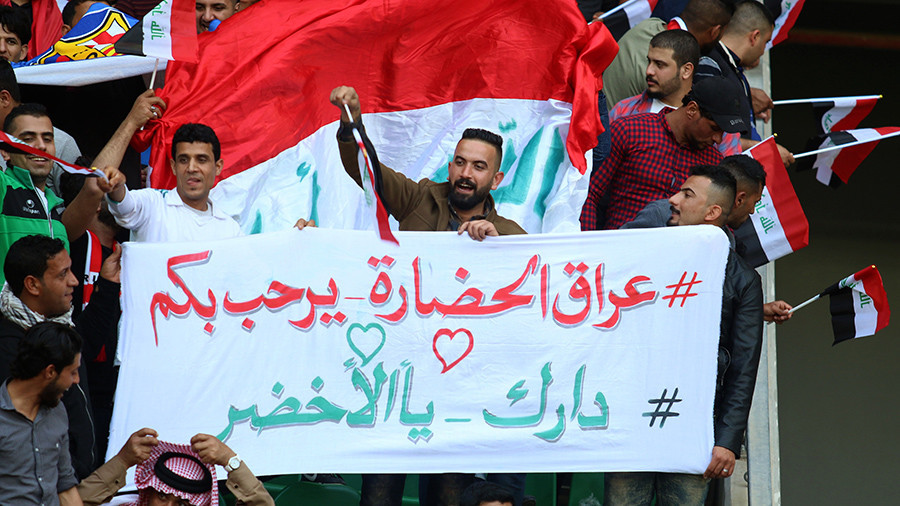 World football's governing body FIFA have given Iraq the green light to host international friendly matches for the first time since the 1990 Iraqi invasion of Kuwait under former leader Saddam Hussein.
A US-led invasion toppled Saddam in 2003, but the ban has stayed in place due to uncertainty and instability in the country which has battles civil war as well as IS occupation in parts of the north and west from 2014 until last year.
At a press conference during a FIFA Council meeting in Bogota, Colombia, over the weekend, FIFA president Gianni Infantino said that the cities of Erbil, Basra and Karbala had been passed fit to host friendlies. Infantino added the right to hold matches in its conflict-ravaged capital, Baghdad, remained under review.
"Iraq we decided today...that in the three cities in which we tested for one year almost friendly matches: Erbil, Basra and... Karbala, international matches will be allowed to play as far as FIFA is concerned," Infantino said.
"Obviously the competition organizer – in this case the [Asian Football Confederation] AFC – would obviously have to take their own decision in this respect as well, but for FIFA it will be fine.
READ MORE: 'Unable to forgive us for winning right to host World Cup': Russia responds to UK boycott threats
"We received also a request to play friendly matches in Baghdad. This request was not accepted by the [FIFA] Council yet. The situation will still need to be monitored a little bit. The request, to be fair, came in very, very late," he added.
The decision followed a successful friendly between Iraq and Saudi Arabia on February 28 at Basra Sport City Stadium, the first on Iraqi soil for more than 40 years. The home side ran out 4-1 winners against the World Cup qualifiers, who will kick off this summer's tournament by playing host country Russia on June 14 at Luzhniki Stadium, Moscow.
The decision to lift the ban was welcomed by Iraqi football fans and AFC President Salman bin Ibrahim Al Khalifa, who was a notable campaigner for lifting the ban after the match with Saudi Arabia.
"This is a significant moment in shaping the future of football in Iraq," he said in a statement. "I congratulate the Iraqi Football Association and all their stakeholders in working so hard to achieve this positive outcome for the game in their country.
"Football development in Iraq can only be benefited by the ability of Iraqi football lovers to see matches played on their own soil and to become involved in the game at every level," he added.
FIFA imposed a ban on international matches upon the Iraqi invasion of neighboring Kuwait, a two-day operation that instigated what became known as the Gulf War under former leader Saddam.
The ban was briefly lifted in 2012 and allowed for a friendly match between Iraq and Jordan, but a power outage during the game led to its reinstatement. During the ban, Iraq played friendly matches in Iran, Jordan or Qatar.
You can share this story on social media: