Russian Paralympians continue winning pace in PyeongChang, claim 2 more golds
Published time: 16 Mar, 2018 12:46
Edited time: 28 Mar, 2018 12:59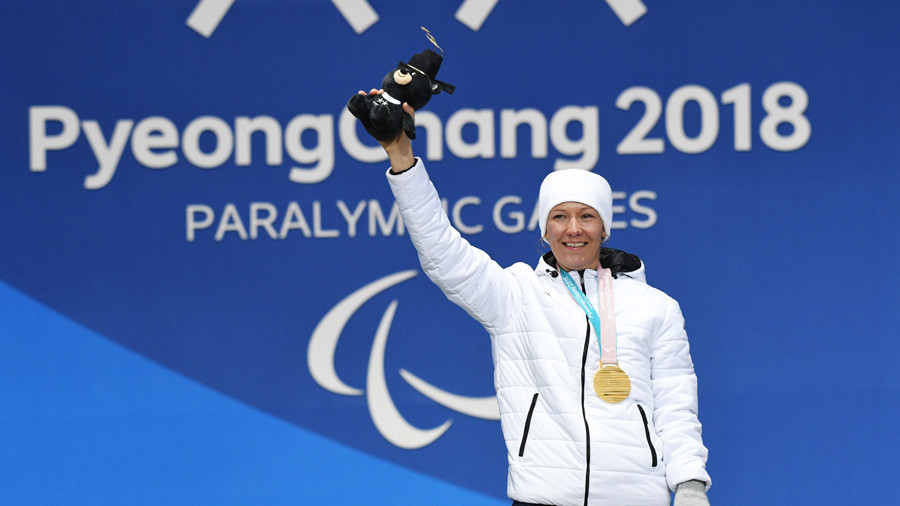 Russian athletes Anna Milenina and Mikhalina Lysova took two gold medals on Friday in biathlon races at the PyeongChang 2018 Winter Paralympic Games.
Milenina prevailed in the biathlon standing 12.5km race, while Lysova won the visually impaired race. This was the sixth Paralympic title and first PyeongChang gold for Lysova, who earlier won two silver and one bronze in South Korea.
Taking part in her third Winter Games, Lysova topped the podium in the biathlon race with a time of 37 minutes and 42.6 seconds. In the biathlon standing category, Milenina and Ekaterina Rumyantseva earned gold and silver awards respectively.
"I was just told that I'm a seven-time champion. I didn't even think about that," said Milenina after the race. She also became a 17-time Paralympic medalist with the win.
"I didn't think about that. Just, personally, I had a sense of contentment that the Paralympics are going well. To be honest, coming in here, I thought that if I get four medals at these Paralympics, that would be good. And this is the fifth medal at these Paralympics so my statistics just went out the window."
Milenina and Rumyantseva have already taken five gold and four silver awards in South Korea. The two skiers said they are ready to compete in cross-country skiing mixed relay despite the absence of their male counterparts, who were denied entry to the Games by the International Paralympic Committee (IPC).
"Our participation in the relay race remains unknown.We will do what our coaches say. But we want to take part in the race and to defend the country's prestige. Our male teammates are not here, but we are ready to fight even if the team consists of only women," Rumyantseva said, TASS reported.
"We want to compete, it's a team relay and it's always very interesting, taking into account both male and female participants are allowed to perform together," Milenina added.
READ MORE: Milenina leads Russian medal haul in PyeongChang with cross-country sprint gold
So far, Russian athletes, who are competing in PyeongChang as a Neutral Paralympic Athletes (NPA) team of 30 participants, sits second in the medal standings with eight gold, eight silver and four bronze medals.
Like this story? Share it with a friend!