'They know who I am & who I represent' - Russian Olympic figure skater Medvedeva to RT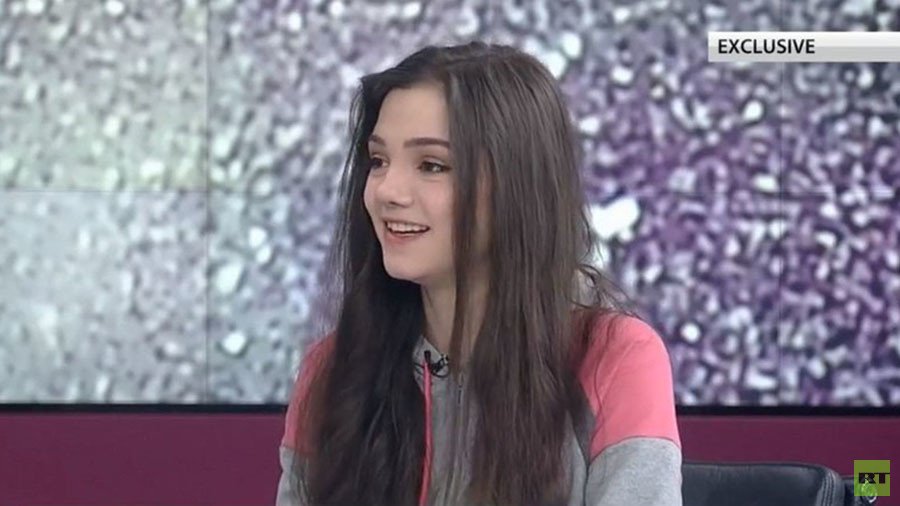 Russian Olympic figure skater Evgenia Medvedeva has spoken exclusively to RT about becoming a two-time Olympic silver medalist, despite political pressure at the recent PyeongChang 2018 Winter Olympic Games.
Eighteen-year-old Medvedeva won a silver medal in PyeongChang, finishing second to teammate and friend Alina Zagitova. The two were forced to compete as Olympic Athletes of Russia (OAR) after the International Olympic Committee (IOC) upheld a ban on the Russian Olympic Committee (ROC).
Conditions of the ban dictated that Russian athletes could not wear national emblems or sing the national anthem, in accordance with IOC rules on "non-participating countries."
Despite the ban, Medvedeva and Zagitova bagged a one-two for Russian in their event. Astonishingly, Medvedeva set a world record in the individual event before it was broken by her teammate.
Both girls were also instrumental in winning the silver medal in the team event, which meant that, despite the absence of several top athletes, Russian competitors still managed to win a total of 17 medals: two gold, six silver and nine bronze. Medvedeva told RT that her performances moved her to tears.
"You know all the situation was so strange and I wasn't expecting everything. And just for me, the most important was to keep working and show my work," Medvedeva said.
"After my long programme I started to cry. It was first time when my soul began to cry, it was just very amazing inside and I didn't expect from myself I can cry after a performance. After my performance, I heard...all audience and all talk in Russian language and they said 'Zhenya well done'...we are in Korea and I was hearing Russian language."
"Not only me, so I had so much support to focus on my goal it isn't easy to keep working when you hear everytime Russia on TV, Russia Olympic again again but it didn't watch TV and didn't watch news on my phone just concentrated on my work and - two silver medals!"
This week, Medvedeva was forced to pull out of the ISU World Figure Skating Championships in Milan, Italy, due to a leg injury she got in the lead up to PyeongChang. The injury affected her Olympic training.
This, coupled with the Olympic ban on Russia and certain Russian athletes for alleged state-sponsored doping, may have negatively affected athletes with less resolve. But Medvedeva is made of stern stuff.
"Honestly I didn't talk about [the press] with my teammates about all these situations, about one month before Olympics I was really so closed inside, I talk only with my coach and with my parents," she said.
Medvedeva said that she found comfort in the support of Olympians from other countries in South Korea, who treated them as equals.
READ MORE: 'It's all just starting': 15yo PyeongChang champ Zagitova about emotions, plans & critics
"Yes so [we talked] much because guys from other countries, we haven't so much chances to meet and every competition we are trying to communicate with each other so many times because we won't have these chances later. For me, it was the biggest support because I feel other countries are so kind to you," the two-time world champion said.
Despite not being able to wave the Russian flag at the Olympics or even at the closing ceremony, Medvedeva admitted that being part of the event. The skater even revealed she had a Russian flag on her jacket beneath a scarf throughout the games, and that competing without a national flag did not hamper her performance.
"I was like a participant of closing ceremony because yes we hadn't our flag and we were so sorry to hear it but it was closing ceremony of Olympics," she said.
"Honestly I don't think so I honestly think I did everything in my power in this Olympic Games and I just know that everybody on the ice rink who watch it live stream they knew who I am and knew who I am representing."
You can share this story on social media: