Sky Sports suspends spit-shame pundit Carragher until end of football season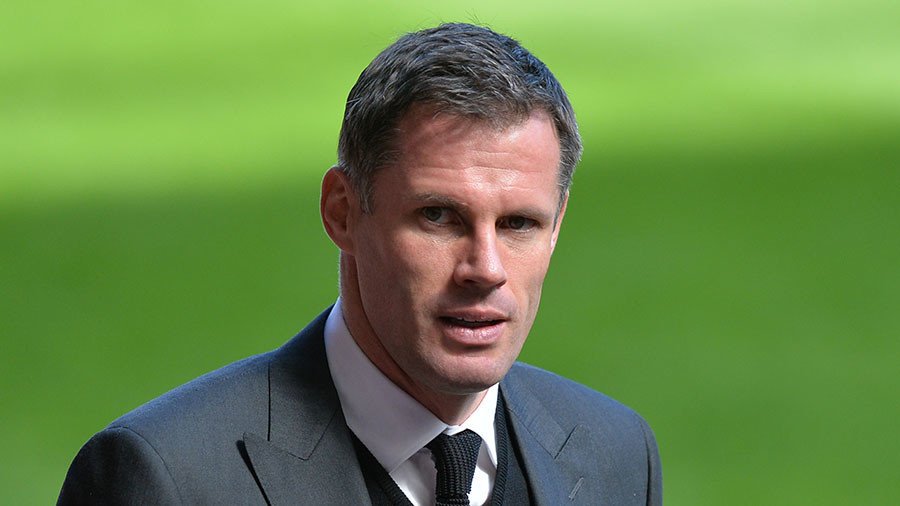 Sky Sports has suspended pundit Jamie Carragher until the end of the football season after he was filmed spitting on a rival fan's 14-year-old daughter. He was reacting to being goaded by her father.
The incident happened after Liverpool's 2-1 defeat to Manchester United in the English Premier League on Saturday, when both parties were driving away from the match at United's Old Trafford stadium.
"Following an internal review, Sky has suspended Jamie Carragher for the remainder of the football season. Jamie has taken full responsibility for what happened and we will ensure he gets the help he needs to guarantee something like this never happens again," the broadcaster said in a statement.
"Before the start of the next season we will sit down with Jamie to discuss whether he is ready to return to his role."
Carragher, who made over 500 appearances at the heart of Liverpool's defense, apologized to the girl in a phone call on Saturday night in which he said: "I just want to apologize and I hope you are OK." The youngster apparently told him: "OK, thanks for apologizing."
The 40-year-old, who also appeared on Sky News to explain his actions, tweeted: "Totally out of order & I've apologised personally to all the family this evening. I was goaded 3/4 times along the motorway while being filmed & lost my rag. No excuse apologies."
He was stood down from punditry duties for Manchester City's Premier League away trip to Stoke on Monday night and also for Manchester United's home defeat to Sevilla in the Champions League.
Those to offer support to Carragher in the wake of the scandal were his on-air colleague and former Manchester United defender Gary Neville, who wrote: "I've just watched Carra23 say sorry. No excuses he's made a big mistake.
I've just watched Carra23 say sorry. No excuses he's made a big mistake . He's massively passionate about football and he's overstepped the mark and shouldn't have reacted . I've been on TV for 3 years with him and imo this isolated incident shouldn't stop us working together

— Gary Neville (@GNev2) March 12, 2018
"He's massively passionate about football and he's overstepped the mark and shouldn't have reacted. I've been on TV for 3 years with him and imo this isolated incident shouldn't stop us working together."
You can share this story on social media: