Russian hockey great Ovechkin makes history by entering NHL 600-goal club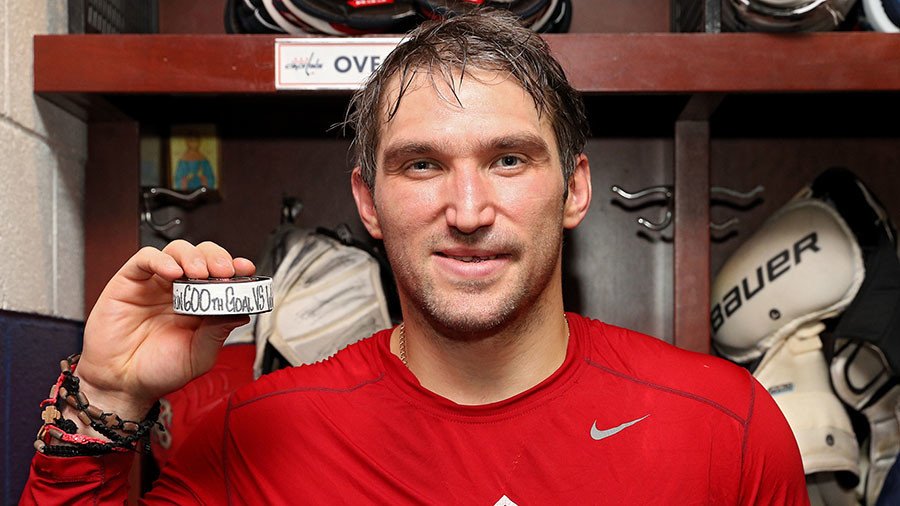 Russian ice-hockey great and Washington Сapitals captain Alexander Ovechkin has reached yet another milestone in his sporting career by becoming the 20th player in the National Hockey League (NHL) to score 600 goals.
Going into Monday's game against the Winnipeg Jets, Ovechkin was just two goals short of reaching six-century mark. The Caps captain duly scored a brace to successfully fill in the gap in his 990th regular-season game.
Ovechkin's first was power-play goal in the opening period, and 'Ovi' added another to his tally in the second period by netting a rebound to finally enter the list of NHL top scorers.
"Now it's 600, honestly it's a pretty amazing and cool feeling. But you know we still have time to work and we have to win the game," Ovechkin said after the second period of the game.
"My wife is here, she just came back from Moscow and she said 'I have a feeling you gonna score 600 tonight and we gonna enjoy the time.' So I'm very happy. My mom, my parents watched the game at home, and they are happy. So, all family happy that's the most important thing."
Ovechkin's next target will now be to overtake Jari Kurri (601), Dino Ciccarelli (608) and Bobby Hull (610), who also managed to pass the 600-goal barrier while playing in the NHL.
The league's all-time list is topped by the legendary Canadian Wayne Gretzky, who hammered in 894 goals during his NHL career. However, while Gretzky and Gordie Howe, who scored 801 NHL goals, played in a significantly higher-scoring era, Ovechkin has spent his entire NHL career in one of the lowest-scoring eras ever recorded in the league.
READ MORE: NHL star Ovechkin launches 'Team Putin' ahead of Russia's presidential race
"If he can sustain his pace, there's no question in my mind that he has the ability and the talent and the work ethic to be able to do it. And if he does it, I'll be the first guy there to shake his hand. If there is one guy out there that can do it, there's no question it's him. The first 500 are the easy ones," Gretzky told NHL.com in 2016.
You can share this story on social media: