Russian curler denies ex spiked him with Meldonium, hopes to compete at Beijing 2022
Published time: 1 Mar, 2018 13:30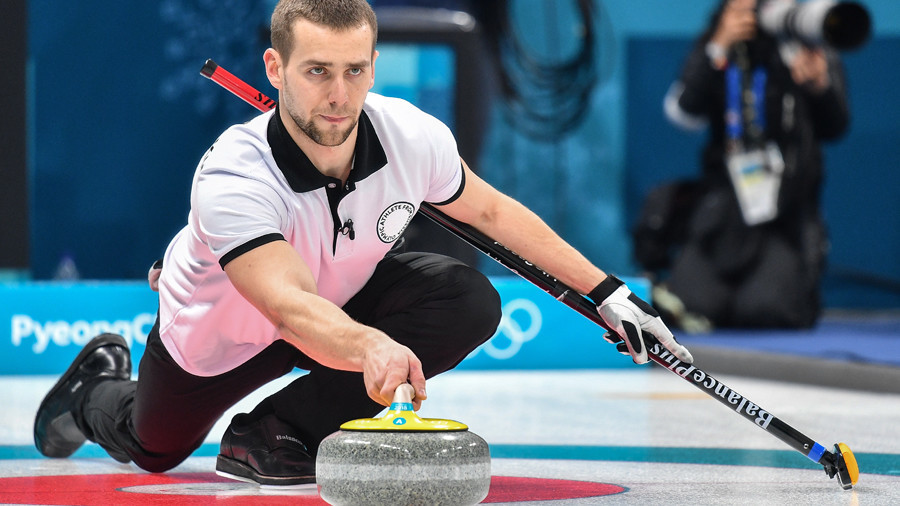 Russian curler Alexander Krushelnitsky, who tested positive for Meldonium at the PyeongChang 2018 Olympics, has expressed hope of participating at the Beijing 2022 Games to prove his innocence of doping.
"We want to and I think that we will compete," Krushelnitsky said, according to TASS. "This situation shocked us, but we will continue training to prove in the next Olympic cycle that this was a mere accident. We will try to redeem ourselves and show our best curling."
Krushelnitsky won Olympic bronze together with his wife Anastasia Bryzgalova in curling mixed doubles, but was stripped of his medal after the banned drug Meldonium was detected in his doping probe.
The athlete denied deliberate use of the substance, insisting that he had never knowingly used prohibited substances during his sports career. He also refuted speculation that an ex-girlfriend could have possibly spiked his drink with Meldonium.
"It was long ago, so there is no need to remember [the ex-girlfriend]," Krushelnitsky said of her possible involvement, RIA Novosti reported. "She is not connected with doping. This girl couldn't be mixed up in the story."
The concentration of Meldonium found in Krushelnitsky's doping sample indicated a single use of the drug, which was prohibited by the World Anti-Doping Agency (WADA) in 2016.
Latvian chemist Ivars Kalvins, who was one of those behind the synthesis of Meldonium, said that a one-time intake of the drug has no effect on athletes and could not be used to enhance performance. The final decision regarding Krushelnitsky's possible disqualification has not yet been revealed, as WADA is still investigating the case.
Russian tennis star Maria Sharapova was also punished for taking Meldonium. The five-time Grand Slam winner was forced to serve a two-year suspension after failing a drug test at the 2016 Australian Open.
Sharapova admitted taking Meldonium but insisted that she had been consuming the medicine since 2006, and that it had not been taken for performance-enhancing purposes.
READ MORE: IOC lifts suspension on Russian Olympic Committee