Olympic rings: Russian female skiers get airport marriage proposals upon return from PyeongChang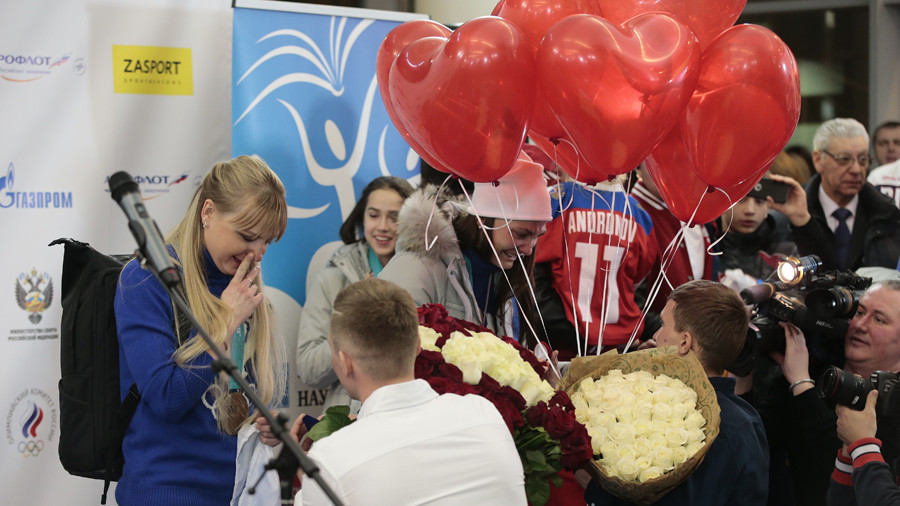 Russian cross-country skiers Anastasia Sedova and Anna Nechayevska received a shock when their respective partners popped the question at Moscow's Sheremetyevo Airport where they were returning from PyeongChang 2018.
The duo, who won bronze in the women's 4x5km relay at the Winter Games, both accepted their marriage proposals, and admitted they were none the wiser about the surprise from their other halves.
"I didn't expect my mom, my sister and my nephew to come and meet me at the airport. I expected to see my boyfriend here," Nechayevska, whose boyfriend Nikita had earlier got down on one knee, told TASS.
"I immediately burst into tears, when I saw my family members. I didn't expect a marriage proposal and didn't think about it, though we have been a couple for almost five years. Every girl dreams of that moment [to receive a proposal]."
"I'm happy that it happened today. Nikita had stayed with me in South Korea, but returned home two days earlier, he probably planned everything beforehand," she added.
Sedova was also stunned when her partner Alexander Kuleshov knelt down and handed a ring to the skier. "He simply asked, 'Will you marry me?' I had no doubts, we have been together for quite a long time," she said.
The Russian Olympians returning from PyeongChang were greeted by an army of fans who waved Russian national flags and sang patriotic songs to honor the athletes who, despite facing sanctions, earned 17 medals in South Korea, including ending a 26-year wait for gold in the men's ice hockey.
Kirill Kaprizov, who scored the winning goal for Olympic Athletes from Russia (OARs) in the final game against Germany, described winning gold as "the best feeling I have ever experienced."