Slovenian ice hockey player expelled from PyeongChang after positive doping test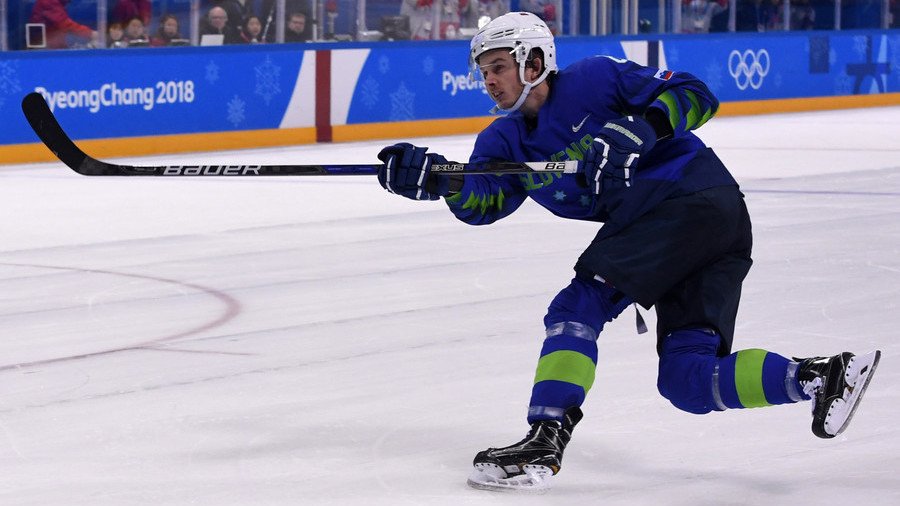 A member of the Slovenian ice hockey squad has been expelled from the 2018 PyeongChang Games. Ziga Jeglic tested positive for the beta-2 stimulant, which is prohibited by the World Anti-Doping Agency (WADA).
Jeglic's in-competition test revealed the presence of fenoterol, an asthma drug which helps to open the airways to the lungs.
READ MORE: Norwegian Olympians found with alarming stash of asthma drugs in PyeongChang
The 29-year-old player, who netted the shootout winner against Slovakia in the preliminary round, admitted committing the doping violation and was ordered to leave the Olympic village within 24 hours.
"The athlete accepted an anti-doping rule violation and, as a consequence, the athlete is suspended from competing in the remainder of the Olympic Winter Games PyeongChang 2018," the Court of Arbitration for Sport (CAS) said in a statement.
"The athlete will leave the Olympic Village within 24 hours; the procedure will continue and the CAS ADD will issue a final award after the conclusion of the Games."
The Slovenian Olympic Committee announced the player had been scratched from the team's roster for the game against Norway.
"Ziga Jeglic will not play for Slovenia against Norway today. Until the completion of the procedure, the leadership of the Slovenian Olympic team cannot and will not make any statements," the Slovenian Olympic Committee said.
The winner of the tie between Norway and Slovenia will face off against Olympic Athletes from Russia in the quarter-final of the tournament.
This is the second officially confirmed doping violation registered at the 2018 PyeongChang Games, after a Japanese short track skater was banned for illegal performance-enhancing drug.
On Monday CAS also opened a probe into doping allegations involving Russian curling athlete Alexander Krushelnitsky, whose probe A was reportedly tested positive for meldonium. CAS statement confirms the procedure was initiated at the request of the International Olympic Committee (IOC), but mentions no specific date for a hearing.
You can share this story on social media: