Putin: Russia still a world leader in sport despite Olympics situation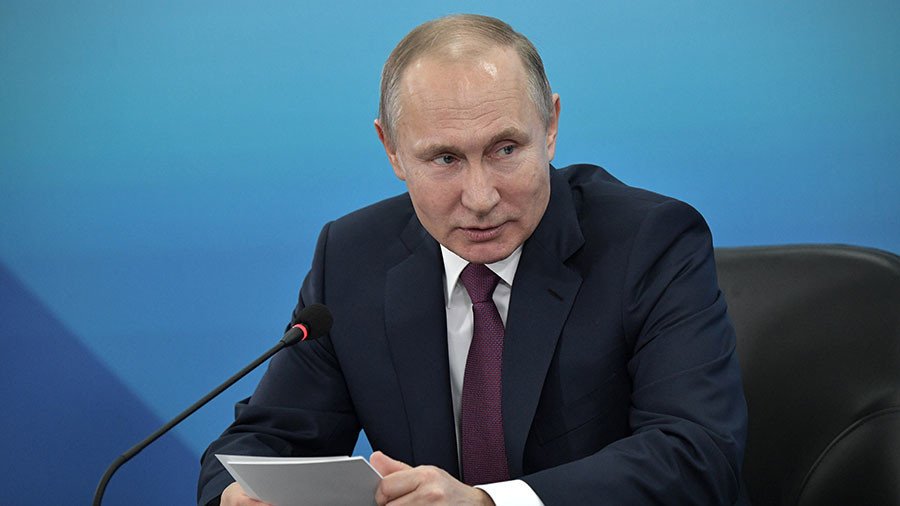 Russia still remains a world leader in sports and hosting global sports events despite the ongoing doping scandal surrounding the nation, President Vladimir Putin said.
"Despite the situation surrounding national sport in the current Olympic cycle, Russia undoubtedly remains a leader of world sport and in the organization of major sports events," Putin said, TASS reported.
Speaking at a conference dedicated to preparations for the 2019 Winter Universiade in Krasnoyarsk, Siberia, Putin also noted that along with the 2018 FIFA World Cup, which will be staged in Russia this summer, the country will host several large-scale sports events in the coming years.
"In 2019, Sochi will host the world boxing championships, in 2021 the world's strongest bandy squads will compete in Syktyvkar and in 2022 the short course swimming world championships will be staged in Kazan," he said.
"The organization of all these major events should comply with the high standards we set at the Kazan Universiade [in 2013] and the Olympic Games in Sochi [in 2014]. These events are aimed at leaving a remarkable legacy of infrastructure and the promotion of sport, enhancing its humanitarian values."
Acting on the recommendations of the Oswald and Schmid Commissions into alleged state-sponsored doping, partly based on the testimony the former head of anti-doping at the Moscow laboratory, Grigory Rodchenkov, the International Olympic Committee (IOC) barred Russia from the upcoming 2018 PyeongChang Winter Olympic Games.
The IOC also penalized 43 Russian athletes, annulling their Sochi results and prohibiting them from competing at any future Olympics. An appeal against that decision was then upheld by the Court of Arbitration for Sport (CAS), but the IOC refused to approve invitations to the cleared athletes for the PyeongChang Games.
READ MORE: Russia 2018 World Cup: RT Sport City Guide Vlog Part 1 - Moscow
A total of 47 Russians are currently appealing their non-invitation to the Games in the Ad Hoc Division of CAS. The decision is expected to be announced as late as Friday morning, the day of the PyeongChang opening ceremony.
You can share this story on social media: