'If Mourinho stays, Man United will be Premier League champions' – Russia legend Alenichev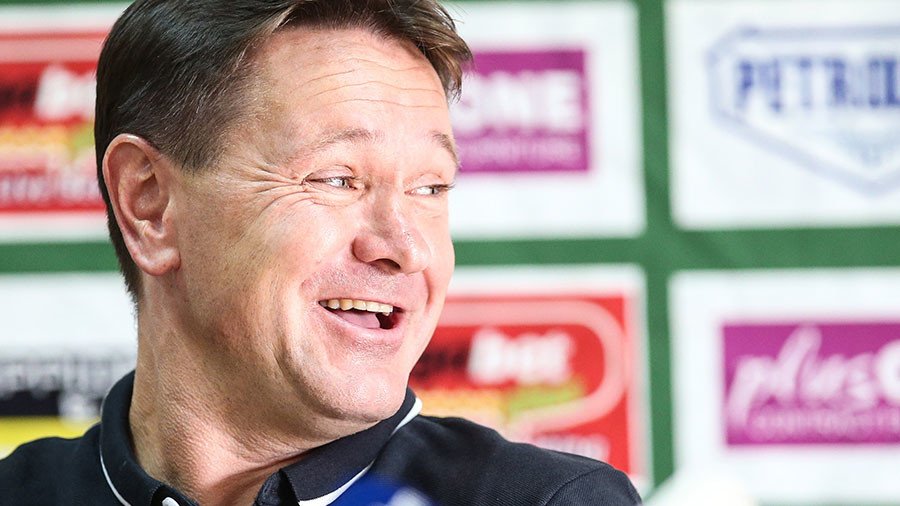 Former Russia and Spartak Moscow legend Dmitri Alenichev dusted off his boots to take part in the 10th annual Legends Cup six-a-side tournament over the weekend, captaining Russia against teams from around Europe.
Alenichev led his country's veterans at the Malaya Sportivnaya Arena (Small Sports Arena), just a stone's throw from Luzhniki Stadium, against teams from Italy, France, Portugal, Germany, and a team of World Stars at the tournament, dedicated to the memory of former futsal player Konstantin Yeryomenko.
In the match against the Italians, Alenichev came up against former Roma teammate and guest of honor Francesco Totti, who had attracted throngs of Russian fans in the red and yellow jerseys of the club at which he spent 25 years as a professional.
Despite boasting the mercurial talents of the recently-retired Totti in their ranks, Italy could not stop an onslaught by the hosts, who raced to an astonishing 7-1 half-time lead and held on for the victory by eight goals to five.
Francesco Totti, in Moscow, with a team of Italian veterans, taking on Russia, captained by Champions League winner Dmitry Alenichev 🇮🇹🇷🇺 pic.twitter.com/D15ZVZ1rf3

— Danny Armstrong (@DannyWArmstrong) February 3, 2018
Alenichev joined Roma after winning four Russian league titles with Spartak Moscow, becoming something of a rarity as a Russian playing in another European league. After a short loan spell with Perugia, he moved to Porto in Portugal.
When precocious young coach Jose Mourinho took over as manager two years later, he would lead Alenichev and Porto to major honors, including the 2004 Champions League. In the final, Alenichev carved his name into history by coming off the bench to score the third and final goal against Monaco, becoming the first and only Russian to do so, and sealing the trophy for Porto.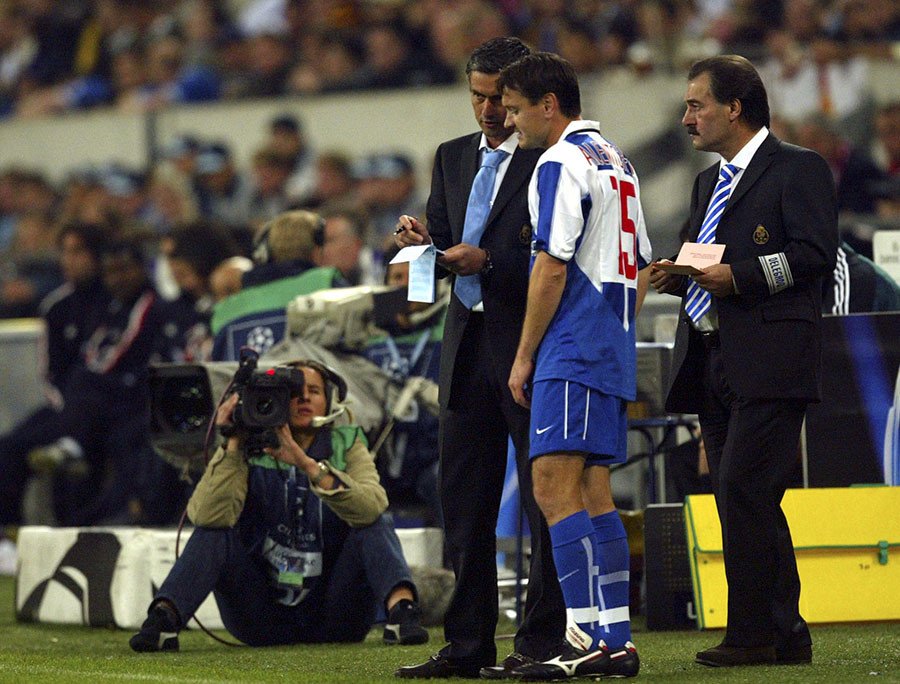 Mourinho now manages in England with Manchester United, and Alenichev believes the club's chances of silverware to be significantly enhanced under the guidance of his old boss, hinting that Mourinho may be the man to take on cross-town rivals and league leaders Manchester City.
"If I am honest, yes, I think [Mourinho] will stay at United for at least another three years. He is the kind of manager that Manchester United need, he is indispensable to them," Alenichev said.
Spoke today with Dmitry Alenichev, Russian Football icon who won the Champions League with Porto in 2003 under Mourinho. Says Jose will stay, United need him, and if he does, next year they will win the league #MUFCpic.twitter.com/wEF983WTHK

— Danny Armstrong (@DannyWArmstrong) February 3, 2018
"Currently Manchester City are outdoing every team in the Premier League. But I think if Mourinho stays – the club hierarchy can even decide that – if he stays, then even as soon as next year Man United have a real chance of becoming Premier League champions."
Although Alenichev predicts success for Mourinho in Manchester, he is uncertain 'The Special One' will repeat the feat he managed first at Porto, then at Inter Milan in 2010, in winning the biggest prize in European football.
READ MORE: Francesco Totti & Co come to Moscow for Legends Cup 2018
"Maybe the favorites will be more Real Madrid, or Manchester City, or Barcelona. I wouldn't put United first in the list of favorites to win the Champions League, but in football all sorts of surprises get thrown up. Who knows, maybe even United can win it."
The latest incarnation of the biggest prize in world football – the World Cup – will take place in Russia this summer. At the Legends Cup, just a stone's throw from where the Russia 2018 World Cup opening game between Russia and Saudi Arabia will take place on June 14, the host team carried their form through the tournament by reaching the final unbeaten.
There, Alenichev was reunited with some of his teammates from his playing days on the Iberian peninsula. His affection for Portugal and its national team still runs deep today, to the extent that he admits he will be supporting the Portuguese should Russia be knocked out.
"Of course, in 2004 I played with a lot of Portuguese players, I know practically all the Portuguese players here today. I played with a few of them at Porto," Alenichev admits.
"Definitely I would like Russia to go as far as possible, so I can support them as far as possible. If it turns out that Russia don't make it out of the group, then of course I will be supporting Portugal."
Russia emerged victorious from the Legends Cup 2018 under Alenichev's leadership. Manchester United may be successful under Mourinho's management. Whether Russia can emerge with the cup at another home tournament, we will find out in just a few months' time.
By Danny Armstrong for RT Sport
You can share this story on social media: