'Shameful & politicized': Russian PM slams IOC move to bar cleared athletes from Olympics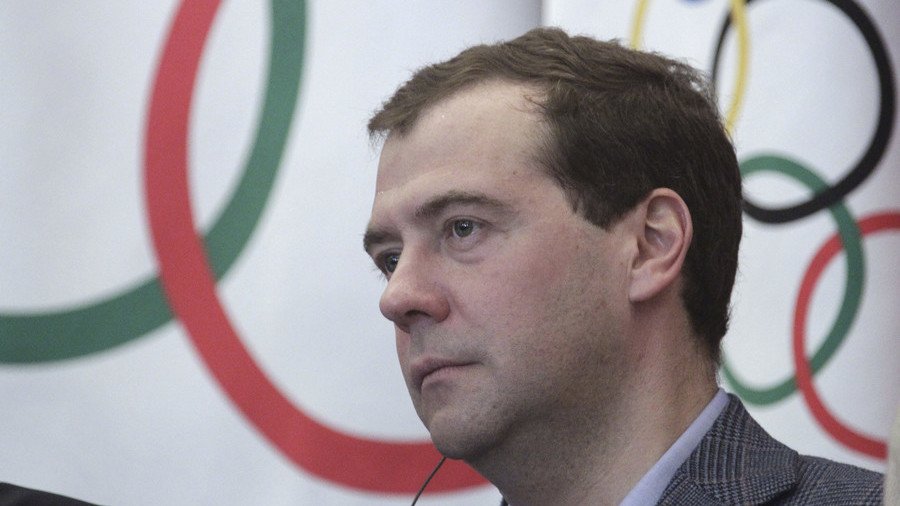 Russia's PM Dmitry Medvedev has blasted the decision of the IOC to not invite the Russian athletes recently cleared of doping allegations to the upcoming Games, saying it violates the Olympic Charter and basic legal principles.
The Court of Arbitration for Sport (CAS) acquitted 28 Russian athletes of all doping related-charges last Thursday, overruling their lifetime Olympic bans in the process. The Russian Olympic Committee then submitted a list of 13 athletes and two couches to the International Olympic Committee (IOC), asking it to extend invitations for them to compete at the upcoming Winter Games in South Korea.
The Russian request was swiftly declined.
"The IOC Commission has taken a shameful decision. This decision is unfair, unlawful, amoral and politically charged," Medvedev wrote in a Facebook post. "By refusing to allow the athletes whose appeals have been upheld by the CAS, a court that has been created for dealing with disputes related to sport, to perform at PyeongChang, the IOC Commission has trampled underfoot the Olympic Charter and the most basic principles of law."
The decision of the IOC's Invitation Review Panel "has little in common with sports… Its goal is to do political damage to Russia," Medvedev stated. By doing so, the IOC body "has have placed themselves above the court, the IOC, the athletes and fans."
"All this has nothing to do with doping. The situation is almost laughable. We could at least understand a politically motivated doping investigation against one country only, Russia. But the Commission's refusal to honor the CAS ruling is beyond understanding. The result of this will be very far-reaching," the Russian PM warned.
The CAS ruling has induced a row between the top sports court and the IOC, which was seemingly caught off guard by the Court's decision. "We would never have expected this," IOC president Thomas Bach said Sunday, describing the CAS ruling as "disappointing and surprising."
Learning about the court's decision was "extremely unsatisfactory given the gravity of the cases" Bach said. "We cannot have a situation of CAS losing its credibility with athletes… We have to do our job to make proposals so trust of the athletes can be restored," the IOC president said. "We feel that this decision shows the urgent need for reforms in the internal structure of CAS."
The President of CAS, John Coates, responded to Bach's criticism by stating that all athletes "are entitled to have confidence in judicial processes at all levels, more particular before CAS" and promised to release detailed reasoning behind the rulings as "soon as possible."
Russia has also criticized Bach's call for "reforming" the world's top sport court, stating that the IOC head should begin, instead, with his own organization and the World Anti-Doping Agency (WADA) "over their inability to act in compliance with democratic procedures."
You can share this story on social media: