Putin to Russian Olympic athletes: Sorry we couldn't protect you amid doping scandal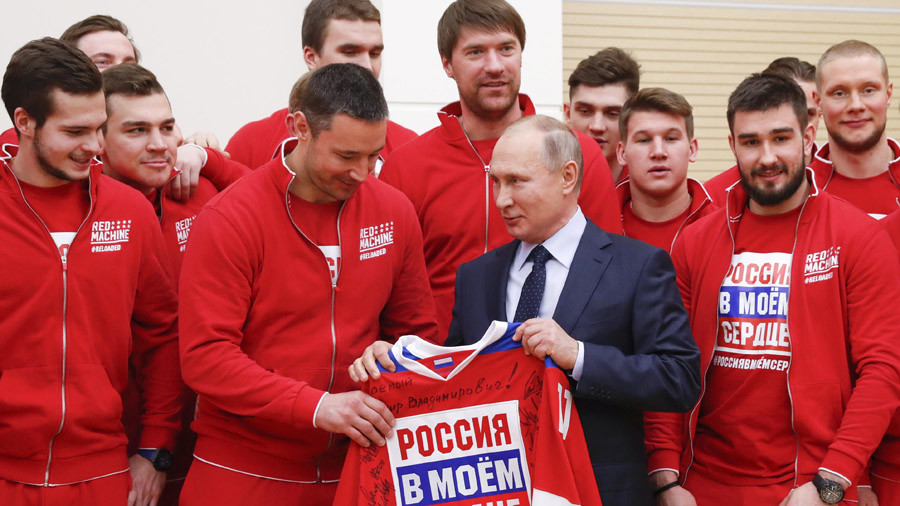 President Vladimir Putin has apologized to Russian Olympic athletes for not protecting them amid the ongoing doping scandal, adding that Russia has always supported and will continue to support sport free from doping and politics.
Competing in professional sports is hard enough in itself, Putin told Russian athletes heading to the 2018 Winter Olympics, adding "it's twice as difficult when sport is intermixed with some events, phenomena alien to it, outside circumstances, politics, or something else."
The president said that the scandals surrounding Russian sport had sparked heated debates within the country, and that this "creates an extremely difficult environment for achieving results."
"Forgive us for not being able to protect you from that," Putin said at the meeting with athletes just outside Moscow on Tuesday.
The Russian leader promised to help those athletes who were barred from participating in the upcoming Winter Games in PyeongChang, South Korea.
"Certainly, we're very worried about our sportsmen and women who were not able to participate in the Olympics. We'll do our best to support them," Putin said.
The Russian leader added that many athletes were not allowed to compete at the Olympics based on "a set of circumstances not related to doping."
"Then the question arises – what exactly are we fighting, doping or something else? We'd like to know the answer," he said.
The president said he was counting on a meaningful dialogue with international sports organizations. Putin acknowledged Russia's "flaws and mistakes, a careless approach to things that are essential in modern sports," but also warned international sports bodies against becoming "departments of some powerful states."
The athletes cleared to participate in the Games should focus on training and try to ignore all the speculation around the Russian team, Putin said, wishing them the best of luck.
"Hundreds of thousands, millions of fans, who love you and hope for your victory, are watching you as usual," the Russian president said. "I sincerely wish you victories and luck."
You can share this story on social media: