Football icon Pele hospitalized after collapse in Brazil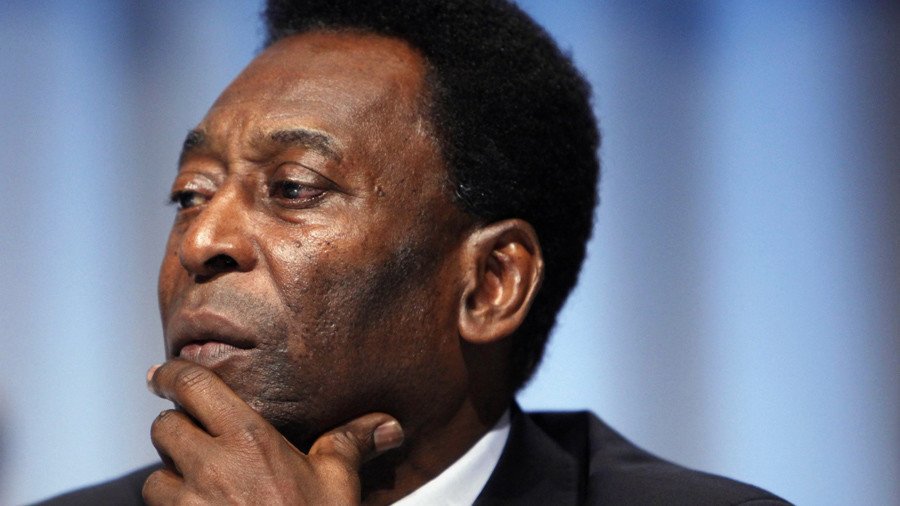 Brazilian football legend Pele has been rushed to hospital after collapsing in his homeland due to "severe exhaustion" on Thursday.
The three-time World Cup winner, 77, was scheduled to attend the Football Writers Association (FWA) Tribute Night in London on Sunday where he was due to be honored. Instead he will remain in hospital under the careful supervision of doctors.
The FWA released a statement on the situation that read, "In the early hours of Thursday morning, Pele collapsed and was taken to hospital in Brazil where he has undergone a series of tests which appear to point to severe exhaustion. He remains on fluids while doctors monitor his recovery.
"Thankfully, there is no suggestion of anything more serious than exhaustion and everybody at the Football Writers' Association wishes Pele a swift and full recovery.
"Understandably, his medical situation prevents him from travelling to London for the Football Writers' Association Tribute Night on Sunday evening at The Savoy.
"But after discussions with Pele and his team, he has insisted the event should continue, not least because many of Pele's friends are travelling from overseas to be with us on Sunday.
"While it is incredibly sad Pele cannot attend the function, the FWA are grateful that all those who have been asked to pay tribute on the night – Gareth Southgate, Cliff Jones, Gordon Banks and Steve Hunt – are determined to help make the evening a memorable one.
"Pele's team have also asked that we film the event and send a copy to Brazil in the knowledge it will lift the Great Man's spirits to see his friends are thinking of him and sending their best wishes. With that in mind, we want to do Pele proud and make Sunday night as memorable as possible."
My father once told me, "It's not enough just to know how to play. You also have to follow the right path." // Meu pai certa vez me disse: "Não é o suficiente apenas saber como jogar. Você também precisa seguir o melhor caminho." pic.twitter.com/b7LG07gwDo

— Pelé (@Pele) December 22, 2017
Earlier this week Pele attended the opening ceremony of the Carioca state championships in Rio de Janeiro, but appeared frail and his mobility was aided by the use of a Zimmer frame.
Pele came to Russia at the end of last year to attend the Russia 2018 World Cup Draw held at the State Kremlin Palace in Moscow on December 1. There, he met President Vladimir Putin and was joined by fellow footballing great, Argentina icon Diego Maradona.
A few weeks after the Draw, Pele told Stan Collymore he hoped to visit Russia for the 2018 World Cup and support his beloved Brazil provided he remained in good health.
"I think [Russia] will be very important for [Brazil]. I was talking a lot about what happened in my life. I wish to stay healthy to watch that World Cup. And if God listens to what I say, Brazil will be at least in the final."
The Stan Collymore Show on @RT_com 1:30/5:30/9:30pm on Sky 512, Freeview 234, Freesat 206.This week, I sit down with the one and only @Pele and I go in amongst Partizan and Red Star Ultras at the Derby.Enjoy! pic.twitter.com/AGWjwKKmBr

— Stan Collymore (@StanCollymore) December 22, 2017
Born Edson Arantes do Nascimento in 1940, Pele played the majority of his club career for boyhood club Santos before moving to New York Cosmos in 1974. He is Brazil's all-time top scorer with 77 goals in 92 international appearances.
He first won the World Cup as a 17-year-old in 1958, retaining the trophy with the Samba Boys in 1962. Pele then became the only player in history to win three World Cups with victory in the 1970 tournament.
You can share this story on social media: