WADA offered money to whistleblower athletes – Fancy Bears leak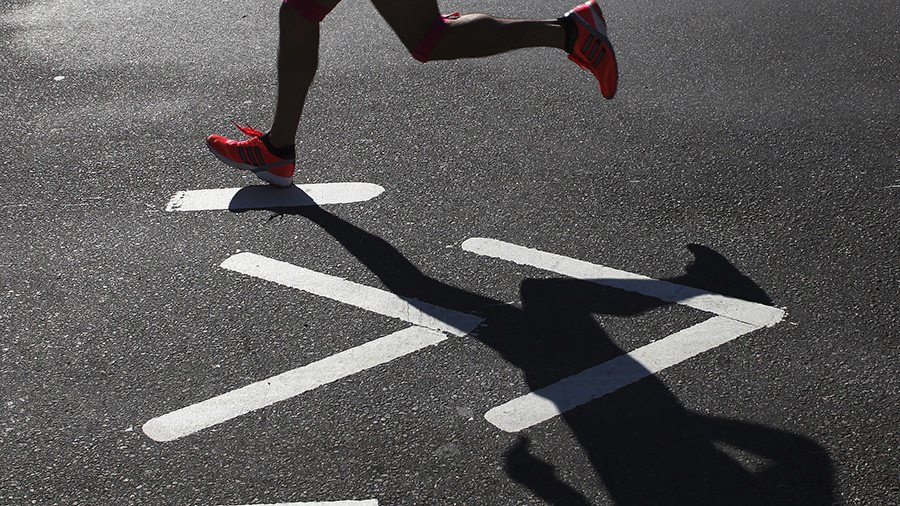 Hacker team Fancy Bears has released IOC e-mails revealing how WADA encouraged voluntary reporting of major cheating in international sports competition and offered financial incentives for athletes to act as whistleblowers.
One of the leaked emails addressed to Thomas Bach, President of the International Olympic Committee (IOC), and the IOC's Director, Christophe De Kepper, reveals bargaining with the Stepanov family, who contributed to Russia's doping scandal. Yuliya Stepanova, a runner who specializes in the 800 meters track event, and her husband Vitaly, a former Russian anti-doping official, fled Russia in late 2014, and have been surviving abroad with the alleged help of the IOC.
"What are you offering to Iuliia [Yuliya]? Is there an agreement you would like to send us?," the Stepanovs wrote in the email dated September 2016 after Bach allegedly offered Yuliya support for "her life" but also "her future [sporting career]", which allegedly centered around her joining the National Olympic Committee.
"We would like to confirm, YES, Iuliia needs support," the Stepanovs wrote. "What kind of support are you offering for Iullia's life and for her future? How is the IOC willing to support Iuliia's sports career? Is there a process of joining a National Olympic Committee? Is the IOC willing to help with this process?"
"Vitaly would also like to add that he will greatly appreciate any assistance in his job search. Due to his lack of education, it will be a difficult task. So maybe there is a chance he could be assisted through an Olympic Scholarship as well, so he can get the necessary education and try to help to make the Olympic Movement even better," the couple said in the email.
Attached to the correspondence is a scan of a 'Service Provider Agreement' through December 2018 signed by Vitaly, which has him provide a "consultancy service to the IOC" on doping control, working five days a month from home for a monthly fee of $5,000.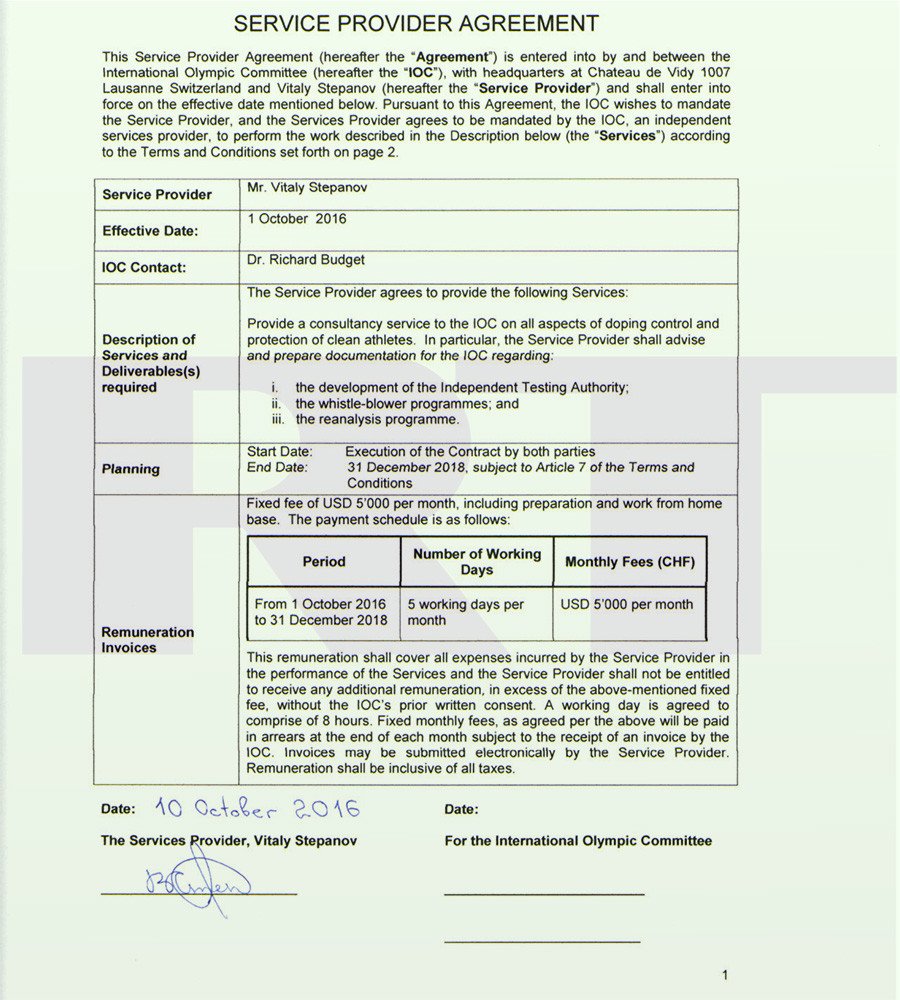 Documents also reveal that the 31-year-old Yuliya applied for an 'Olympic Scholarship for Athletes Rio 2016,' despite being banned from competing. Under the scheme athletes receive funding to access training facilities and a qualified coach in their discipline. Scholars also receive "regular medical and scientific assistance, accident and illness insurance, board and lodging costs and travel to Olympic qualification competitions."
READ MORE: FIFA sends questions to whistleblower Rodchenkov on Russian football doping
Apparently, Yuliya successfully received the funds offered by the IOC, according to the 'Bank Details for Olympic Scholarship Holder' form filed by the athlete, also attached to the email.
Acknowledging the receipt of Stepanovs' emails, De Kepper proposed meeting in Switzerland to discuss further details of their case. "I would be pleased to invite both of you to Lausanne at your earliest convenience and at the IOC costs [sic]," he wrote.
In the meantime, everyone's favorite mustachioed Russian whistleblower Grigory Rodchenkov, is expected to testify next week before the Court of Arbitration for Sport (CAS). The author of two reports on Russian doping, Canadian lawyer Richard McLaren, has also been announced as a witness. The tribunal will examine the cases of 39 of 42 Russian athletes who are appealing their lifetime bans from the International Olympic Committee (IOC).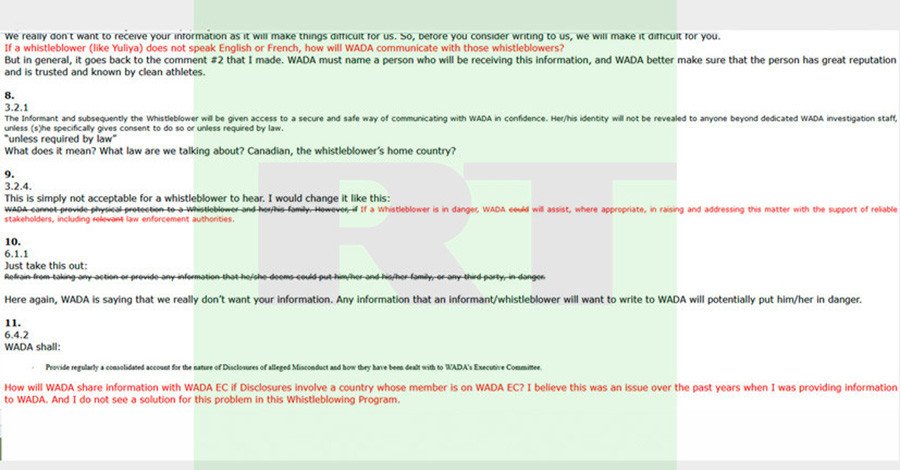 On December 5, the IOC Executive Board banned Russia from the PyeongChang Winter Games due to allegations of state-sponsored doping relating to the 2014 Winter Olympics in Sochi.
Also in December, Rodchenkov was charged in absentia for trafficking illicit drugs in Russia. The former doctor, who is reportedly living in the US under an FBI witness protection program, will be immediately arrested if he ever comes back.
If you like this story, share it with a friend!
You can share this story on social media: