'He never missed a training session'- Lev Yashin's widow on her husband's peerless career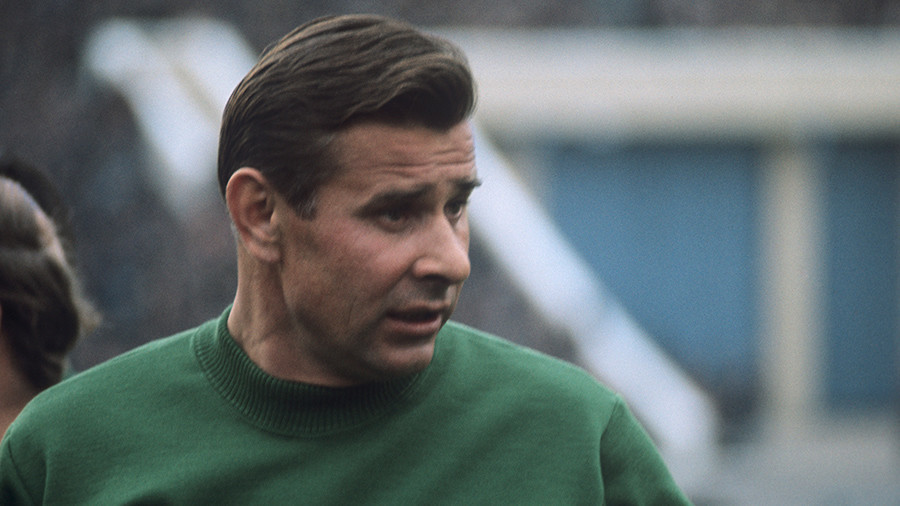 Valentina Yashina, the widow of the Soviet goalkeeping legend, has spoken to RT about her husband's illustrious career, determination, and incessant work ethic to perfect his skills by never missing a training session.
Yashin, who remains the only goalkeeper in history to receive the coveted Ballon d'Or, made 78 appearances for the USSR, and won a 1956 Olympic gold medal as well as the 1960 European Championship with the national team.
He participated in four World Cups, playing at the 1966 tournament in England where the Soviet team registered their best ever result - finishing fourth after losing to Portugal 2-1 in the third place playoff. He also made 326 appearances for FC Dynamo Moscow, spending his entire professional career with the club.
READ MORE: 'I promised my father I'd win the World Cup'– Pelé recalls remarkable life in football
Yashin kept 270 clean sheets and saved over 150 penalties in his career and was named the best goalkeeper of the 20th century by FIFA, who commemorated his outstanding achievements by introducing the Lev Yashin Award - also known as the Golden Glove - in 1994, which goes to the best goalkeeper at the World Cup.
RT's Maria Komandnaya visited Yashin's widow Valentina Yashina, who lived with her husband for 35 years until his death in 1990. She recalled the most remarkable moments of her husband's sporting life that spanned almost 20 years.
"If we had a falling out, if something unpleasant happened we would just both go silent, him and me. And then, after a while, he would smile and say 'Okay.' Or I would do the same, if I knew I said something wrong," she remembered.
Valentina described her husband as a workhorse who, despite achieving success, world fame and recognition, never allowed himself to rest on his laurels, and worked tirelessly to perfect his skills in training sessions.
"He used to say, 'It's my job to slam my bones against the ground.' Practicing, practicing, and practicing all the time. He never missed a practice session. When he would return from abroad, he would have a whole bag full of dirty clothes."
Nicknamed 'The Black Spider' because of his habit of dressing head to toe in black, Yashin could have gone on to play for some of the world's biggest football clubs had it not been for the Cold War and the Soviet Iron Curtain, which provided a stumbling block to him playing abroad.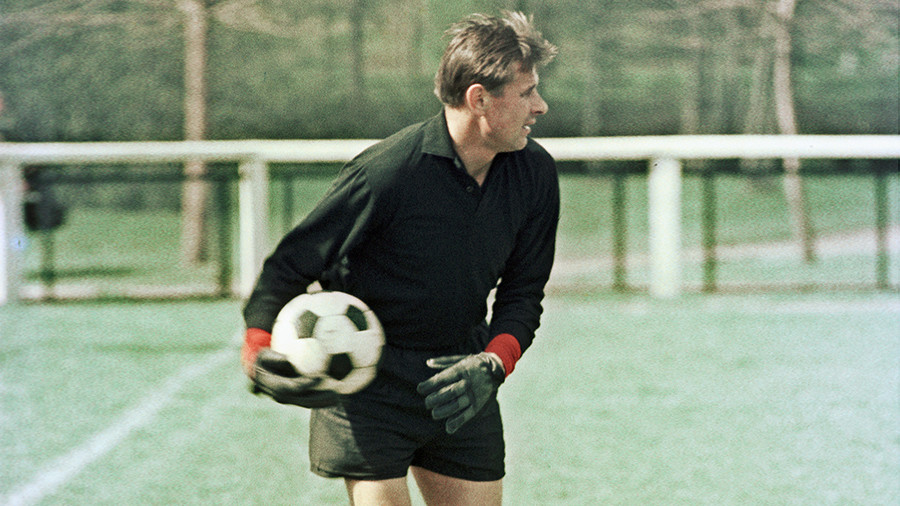 Valentina, however, still refuses to let herself dream of what life they could have led had Yashin played for a foreign club - "I never wonder about this, so don't even ask me what it would have been like," she says.
Remembering one of the most devastating moments in her husband's career, Yashina said her husband could have retired in his prime following a disappointing loss to Chile in the quarterfinals of the 1962 World Cup. The only Soviet journalist covering the tournament blamed Yashin for that defeat, triggering an avalanche of criticism that descended on the keeper upon his arrival home.
"And so he decided to quit. A decade [in sport] was enough he thought," she said. "But 1963 lifted his spirits. He was invited to play in the England vs. Rest of the World football match in London to celebrate the 100th anniversary of the English Football Association. And he also got the golden ball. It changed his mood."
England played against the World XI at Wembley in 1963, the first time a world team had faced off against a single nation. Yashin kept a clean sheet before he was replaced by Serbian stopper Milutin Soskic, who then conceded two goals to allow the hosts a 2-1 victory.
Later that year, Yashin was awarded the Ballon d'Or, given to Europe's best player, for his heroics in helping club side Dynamo Moscow win the Soviet Top League that season. In doing so, he became the first and to this day only goalkeeper to win the award, as well as first Soviet and Russian national.
Yashin continued his career until 1971. More than 100,000 fans attended his farewell match, which was staged at Lenin Stadium in Moscow. World greats Pelé, Eusébio and Franz Beckenbauer came to the USSR to play together with Yashin in the exhibition match.
Valentina says her husband's generous personality meant he would have quite literally given anyone the shirt off his back.
"He was generous, even too generous," she said. "He could have easily given away his trademark black kit to any person who asked him. Whatever he brought from foreign trips, he would share it with his friends. He didn't bring much for his family or himself. He was a very kind man."
Today, Yashin is immortalized by two iconic images of him in action. The first is a huge mural close to the Russian Football Union headquarters in Moscow's Tagansky district.
Lev Yashin mural opposite the Russian Football Union building at Taganskaya, Moscow. One of the more understated but eyecatching pieces of artwork in the city #Moscowpic.twitter.com/pPxByYzFXz

— Danny Armstrong (@DannyWArmstrong) November 9, 2017
The second is the official poster for the 2018 FIFA World Cup which was unveiled in December 2017 and features Yashin, clad in his signature black and complete with flat cap, making one of the many saves that made him the greatest goalkeeper of his generation.
You can share this story on social media: