Saudi footballer faces jail for illegal 'dabbing' on touchline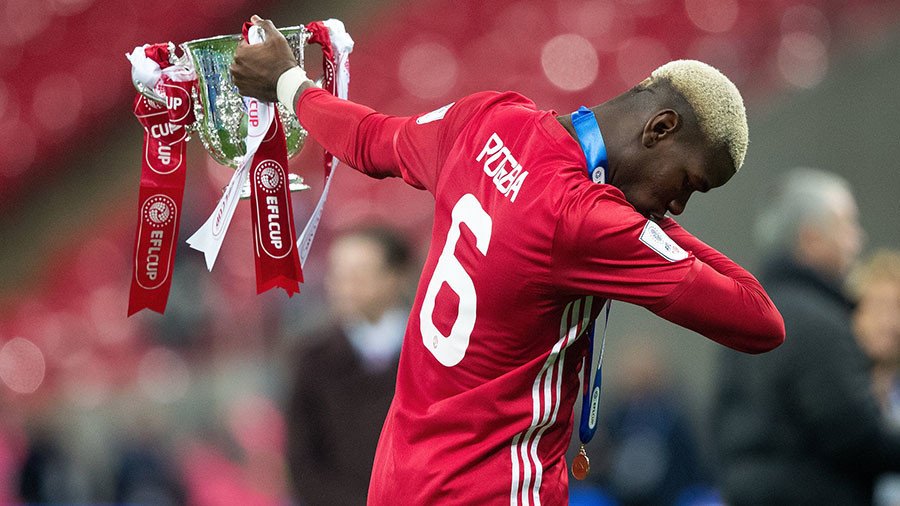 It's the dance-craze turned goal celebration that has been made popular by Manchester United stars Paul Pogba and Jesse Lingard, but 'dabbing' could land one Saudi Arabian footballer in prison.
Instead of high-fiving what appears to be his teammate in the technical area, the unidentified player for Saudi club Al Nojoom performs the move by lowering his head into the bent crook of a slanted arm with the other arm outstretched into the air.
The move was met with anger by some social media users and the TV commentator can be heard saying, "No, no, no," in the clip of the incident, which was shared by Saudi sports broadcaster Dawri Plus.
In contrast to its popularity in the West, 'dabbing' is considered to have ties to drug culture and therefore has been made illegal by the authorities in the Sunni Muslim sovereign Arab state.
The country's anti-drug committee president was even quoted in the Saudi Gazette as saying the dance has a "harmful influence on youth" and has warned "those who promote it in public events or on social media will face consequences."
Should the footballer be arrested, it would not be the first time a Saudi citizen has danced onto the wrong side of the law in the country. Last August, a 14-year-old Saudi boy has reportedly been arrested in Jeddah after video footage of him doing the 'Macarena dance' in the middle of a traffic intersection went viral.
READ MORE: Saudi teen arrested for Macarena dance on Jeddah streets (VIDEO)
Earlier that month, top Saudi singer Abdallah Al Shahani was arrested after busting the move on stage at a music festival in Taif.
The Saudi Arabia national team will open the Russia 2018 World Cup on June 14 when they play hosts Russia at Luzhniki Stadium to kick off the tournament.
You can share this story on social media: