Conor McGregor team member Artem Lobov puts federal guards through paces inside Kremlin (VIDEO)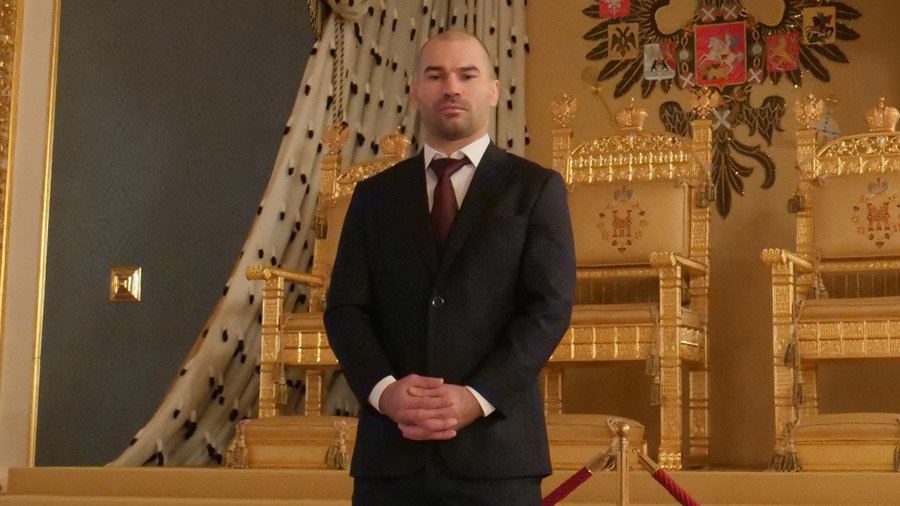 Irish UFC fighter of Russian descent Artem Lobov has given a seminar to members of Russia's Federal Protective Service (FSO), which specializes in protecting high-ranking state officials, including President Vladimir Putin.
Lobov, 31, may not have the most impressive MMA record, but he is widely respected for his relentless fighting style and unwillingness to back down. Even though he currently has more losses than victories on his slate, very few came by way of stoppage, with most coming via referee decision.
He is also well known for his close association with MMA superstar Conor McGregor, with the pair training together for many years, long before the Irishman's fame hit its current heights.
Lobov is a frequent visitor to the Russian capital, courtesy of his connections with Russian MMA promotion Fight Nights Global, for which he provides his services as a color commentator for the organization's international audience.
During his most recent visit, Lobov conducted a seminar for members of Russia's FSO, which is charged with protecting high-ranking state officials, right up to the level of President Putin.
RT Sport was on hand to take a look at one of Russia's most secretive training bases, situated in the heart of the Moscow Kremlin. We also spoke to Lobov, nicknamed 'The Russian Hammer', after the master class he provided, to find out how he felt in the unaccustomed role as a security forces trainer. We also discussed his UFC career, friendship with 'The Notorious' McGregor, and more.
RT: First of all, could you tell us about today's seminar? How did it feel to train guys in the Kremlin?
Artem Lobov: I was absolutely honored to be invited to the Kremlin. It has been a dream of mine ever since I was a kid. And of course I never even dreamt to be invited to train special forces. So I was very excited, and I enjoyed every second of it.
RT: Was there anything they surprised you with?
AL: The guys were very well trained. They weren't just a regular type of guys. They were trained professionals. I always enjoy it a lot more when I get to train people that understand what fighting is.
RT: Do you think they could make it on a professional level in MMA?
AL: Absolutely, I do think so. The main thing in fighting is not just skills. Skills can be learned. It's the heart. And these guys are ready to give their life for their country. So they would be great fighters, no doubt in my mind.
RT: Is it something you plan to do more in future?
AL: If they would invite me, I would be absolutely honored. And I would be there in a heartbeat.
RT: What about your career in professional mixed martial arts, and in particular in the UFC? Are we going to see you again in the octagon?
AL: Yes, I'm hoping to fight at UFC London, which is on March 17.
RT: Many fans were hoping to see you fight against an exciting UFC newcomer, Zabit Magomedsharipov, from Dagestan. Are we going to see that fight?
AL: I never turned down a fight in my life. I don't pick my opponents. I want the hardest fights. That's been me since day one, and this will be me till my last day.
RT: How highly do you rate Zabit?
AL: He is very, very good. I'm impressed by his skill. I think our fight would make a great show for the fans, and will be a great test for both of us.
RT: Another fighter from Dagestan, Khabib Nurmagomedov, has a fight against Edson Barboza at the end of this month. How do you rate his chances of another victory?
AL: Khabib is a great fighter. Although it's not an easy fight for him. He's right at the top. There are no easy fights in the UFC, so of course it's a big challenge, but he certainly has the skill to win.
RT: Khabib said a few days ago that your friend and sparring partner Conor McGregor should be stripped of the lightweight belt, since he hasn't defended it for more than a year now. What's your take on that?
AL: All fighters want the belt, but there's only one way to get it – you have to fight Conor and you have to beat him. And that's not an easy task. I don't see him losing that belt anytime soon.
RT: We know that the UFC removed Conor from their final card of the year, do you think that was a fair decision from their side, considering what happened in the Bellator cage in Belfast, Ireland?
AL: He wasn't removed from the 219 card. He was never supposed to be on that card. I knew that there were negotiations going on, for him to potentially fight on that card. But I don't think that those negotiations reached the conclusion, and as the result of that he's not part of that tournament. But it had nothing to do with anything that had happened elsewhere.
RT: Conor is known to be a tough character, both inside and outside of professional fighting. Today we are here in Moscow, Russia, and we have to ask the question – if Conor McGregor and Vladimir Putin had a fight based on any rules they agreed on, who would win?
AL: Conor versus Vladimir Putin? This is a tough one, you know. I'm not really sure how that one would play out. But obviously they are in different businesses. Conor is in the business of mixed martial arts, and Vladimir Putin is the number one politician in the world. And both of them are the best at what they do.
by Denis Geyko for RT Sport
You can share this story on social media: