US Olympic medalist designs first hijab-wearing Barbie doll in her image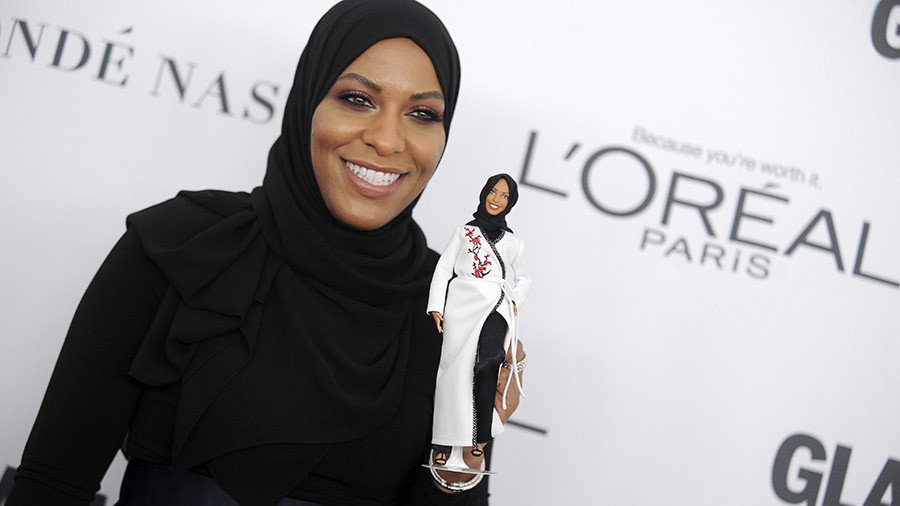 Team USA fencer and Rio 2016 bronze medalist, Ibtihaj Muhammad – the first American to wear a hijab in an Olympic Games – has designed the first Barbie doll to feature the Muslim headgear.
Ibtihaj, an African American whose parents were born in the United States and converted to Islam, designed the doll with toy company Mattel in her own image – insisting that it feature her signature cat-eye eyeliner.
"There was so much about the doll that was important to me," Muhammad explained to fashion magazine Vogue. "As a kid I was bullied for having larger legs and sport taught me to embrace my body and to love my body and the strength that it could produce and I think having strong legs helped me win a medal at the Olympic Games.
"So I wanted my legs to be larger, more athletic legs, toned legs, and I am very into eyeliner, so I wanted a strong, winged cat-eye. Mattel listened to everything, even down to the fabric of the hijab - I think they did a great job," she added.
Her pint-sized toy double carries a hand-held fencing foil and wears Nike shoes but, rather than wear the fencing helmet on her head and cover the hijab, it is held under the doll's arm.
Barbie dolls have been seen by some as propagating an unhealthy image for young girls to strive towards, with some claiming it normalizes a super-thin shape and drives girls to adopt extreme measures to obtain a similar figure.
However, the brand is taking steps to distance itself from conventional looks and instead produce dolls with variant body types, skin tones, clothing and hairstyles.
"Ibtihaj is an inspiration to countless girls who never saw themselves represented," Barbie's vice president of global marketing said in a statement.
"And by honoring her story, we hope this doll reminds them that they can be and do anything."
The issue of hijabs in sport has been a prominent topic of debate. Schools in the US have introduced 'sporty hijabs' to facilitate Muslim students' participation in sports, as the traditional headgear poses problems such as restricting movement.
READ MORE: US high school introduces 'sporty hijabs' for female Muslim athletes
Iranian chess player Dorsa Derakhshani, was banned from representing her national team after refusing to wear the garment during a tournament in Gibraltar.
The hijab has been compulsory dress for Iranian women since the Islamic Revolution in the country in 1979.
You can share this story on social media: