Lazio football club face disciplinary hearing over anti-Semitic Anne Frank stickers & slogans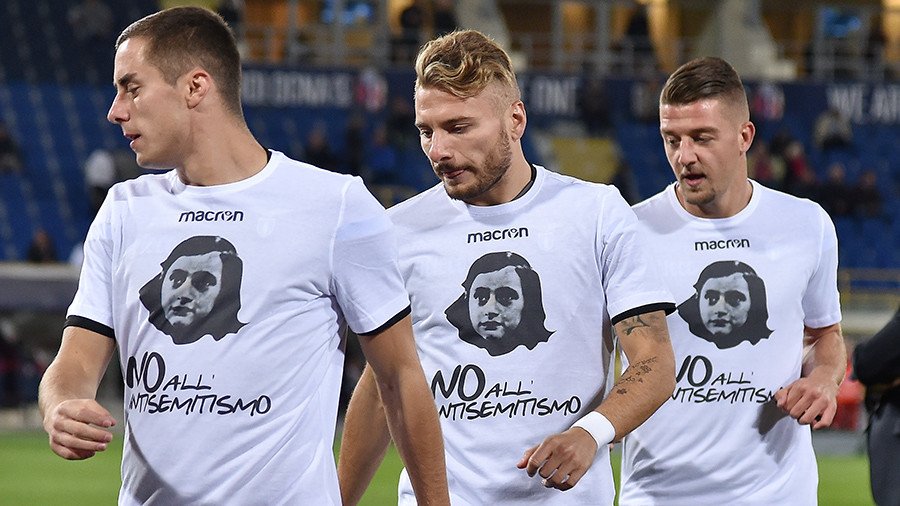 The Italian football federation has ordered Serie A club Lazio to attend a disciplinary hearing after its supporters were found guilty of distributing anti-Semitic stickers featuring the image of Holocaust victim Anne Frank.
Members of the Lazio ultras group "Irriducibili" caused outrage by posting stickers depicting Anne Frank wearing a jersey of their arch rivals Roma, accompanied by anti-Semitic slogans, inside Stadio Olympico, the stadium shared by the two clubs in the Italian capital, during Lazio's 3-0 Serie A win over Cagliari in October.
The Federazione Italiana Giuoco Calcio (FIGC) announced the hearing on Tuesday. It says there was a "clear anti-Semitic intent" and that it "constituted discriminatory behavior," AP reported.
Lazio's ultras were housed in the stadium's southern curva, the end where Roma fans are usually based, because their own area was closed due to racist chanting. The day after the game, the stickers and slogans were found by stadium cleaning staff.
Passages from Anne Frank's diary were read out before each following Serie A game, and Lazio players wore T-shirts bearing Anne Frank's image in the warm-up before their game away to Bologna.
However, the Irriducibili ultras announced they would boycott that game, while some of the away fans who did attend defiantly sang "Me ne frego," which translates as "I don't give a damn," as passages from Frank's diary were read aloud before the game.
"Me ne frego" was known as a popular song in fascist Italy under Benito Mussolini, whose name appears in the lyrics.
READ MORE: 'I don't give a damn' - Italian fans sing fascist chant during Anne Frank diary readings
Since the behavior by Lazio fans, copycat stickers have appeared in Germany, with Borussia Dortmund fans believed to be behind stickers depicting Anne Frank wearing the jersey of rivals Schalke.
You can share this story on social media: