Messi mistakes fellow Argentine player for fan in embarrassing photo fail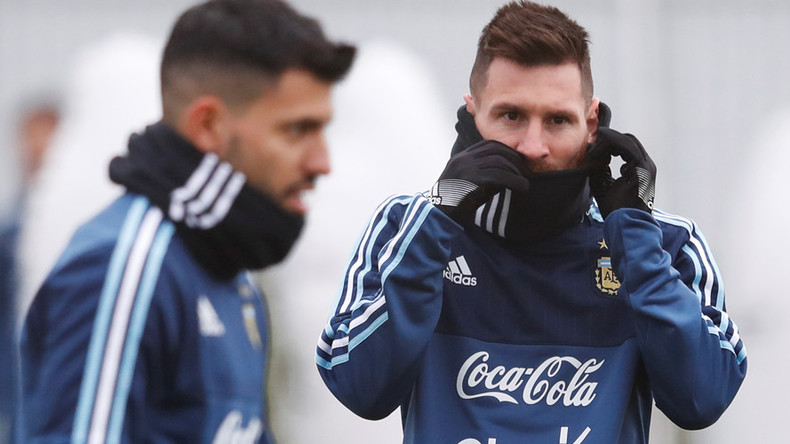 Argentina star Lionel Messi suffered an embarrassing photo fail in Russia this week, mistaking fellow Argentinian footballer Sebastian Driussi for a fan when posing for a picture with him.
Messi, who is in Moscow preparing for Saturday's match against Russia at the newly-renovated Luzhniki stadium, was involved in the awkward mishap at the team's hotel in the Russian capital.
Driussi plays his club football for Russian team Zenit St. Petersburg, and asked the Barcelona superstar for a picture together in the hotel lobby while visiting the team.
READ MORE: Messi pops pill from his sock before 100th European goal
As Driussi was decked out in a baseball cap and leather jacket, his compatriot failed to recognize him.
The photo posted by Driussi to his Instagram account shows Messi in what could be described as the default pose for football stars when having their photo taken with fans. The 21-year-old Driussi captioned the pic: "Thanks for the photo, idol."
Messi later told Fox Sport Argentina that he "felt bad for not having recognized him at the time because I do know him… When he asked me for the photograph I thought he was one of the guys that are always waiting for a photograph.
"When I saw the photograph on Instagram I apologized to him. We had exchanged messages in the past via someone else and we share the same tattoo artist."
In addition to Driussi's baseball cap and casual clothing, Messi could also be forgiven for not recognizing the young striker, who is far from being a familiar face in the Argentina set-up, having yet to make his senior debut - although he has represented his country at under-17 and under-20 levels.
Driussi joined Russian team Zenit St. Petersburg from boyhood club River Plate in his homeland in July, and has bagged three goals in 22 game for the Russian club.
Messi, 30, is a talisman for both club and country, and has scored 61 times in 122 appearances for La Albiceleste and has found the net an incredible 523 times in 600 games for Barca.
As well as his training duties, Messi's time in Russia this week has also been spent doing promotional work for sponsor Adidas, including at the unveiling of the official World Cup match ball in Moscow on Thursday.
Messi's recent hat-trick against Ecuador in the final South American group stage game booked his team's place in next year's World Cup Finals in Russia, which will be the megastar's fourth appearance at a World Cup.
READ MORE: The stunning rebirth of Moscow's Luzhniki Stadium
He will lead his team out on Saturday for the friendly against Russia at Moscow's Luzhniki Stadium, where a crowd of around 75,000 is expected. It will be the first game at the arena since a $450 million renovation was completed. The stadium will host several games at next year's World Cup, including the opening game and final.