British surfer breaks his back in huge wipeout in Nazare (VIDEO)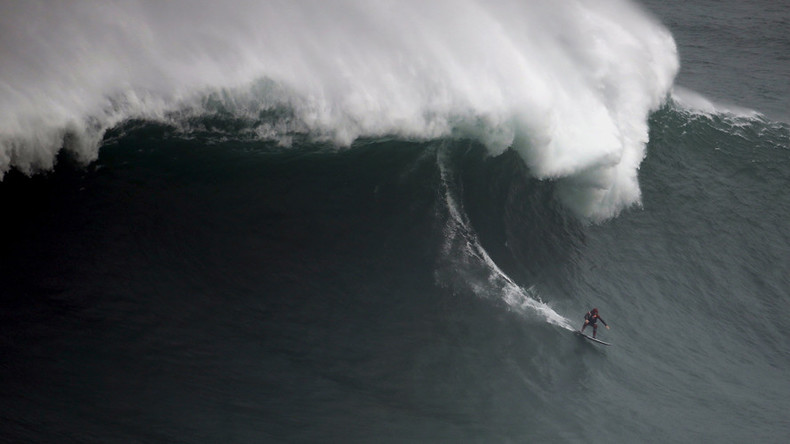 This is the moment British surfer Andrew Cotton suffered a horrific injury while riding a 60ft wave off the coast of Portugal.
Cotton wiped out as the monster wave engulfed him. He suffered a fractured spine in the incident but is thankfully expected to make a full recovery. The spectacular wipeout happened at the notorious coastal spot Nazare, famed for its massive waves.
Cotton has previously ridden an 80ft wave at the same spot, but on this occasion was very much vanquished by nature.
"It was a split second of misjudgement," Cotton told BBC Sport. "Like an F1 driver taking a turn a fraction too fast. I knew it was bad," he added.
"I read [the wave] wrong. It didn't do what I thought it was going to do.
"Normally I'd try to get into the hollow base of the wave but Nazare is a beach and the waves can be very unpredictable and shifting. Waves don't always break in the same spot like in some surf areas so a small error of judgement can be serious."
He described the moment the wave crashed into him as "the heaviest impact I have ever felt," saying that it was "followed by a feeling of weightlessness as I was thrown through the air. It felt like it went on for a long time although I didn't know at the time."
He was wearing a protective vest, which luckily seemed to bear some of the impact.
"Straight away I knew I'd rattled something so I pulled the chord on my inflatable vest and just hoped the section designed to reduce impact had worked," he said.
Cotton was immediately taken to the beach, where he received treatment before being moved to hospital. He suffered a fracture to part of his lumbar spine, but is thankfully expected to make a full recovery.
He says the crash won't stop him for continuing to ride the world's biggest waves, including at Nazare. "It won't put me off. Riding the big waves is what we live for," he said.
Nazare, located in western Portugal, is a famous spot for big wave surfing. The biggest waves usually occur in November and attract professional surfers from all over the world.