MLS fans with 'anti-fascist, anti-racist' banner ejected from stadium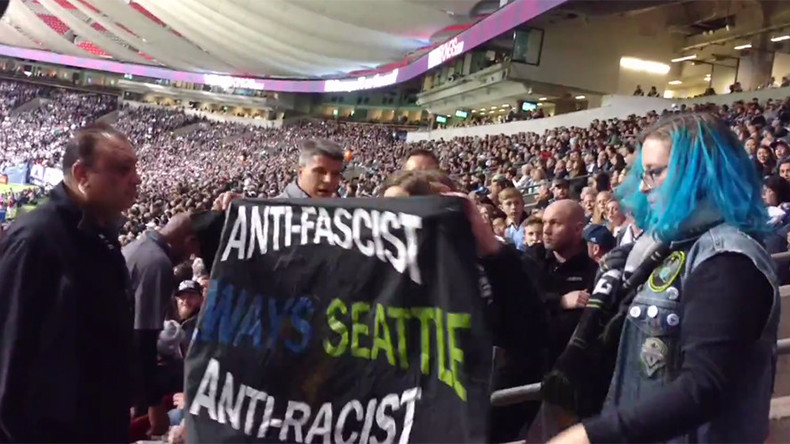 Fans of Major League Soccer (MLS) team Seattle Sounders were ejected from a game versus Vancouver Whitecaps on Monday for unfurling a banner that read 'Anti-Fascist, Anti-Racist, Always-Seattle.'
During the MLS Conference Semifinals, Game 1 away to Vancouver in British Columbia, Canada; two members of the Sounders fan club 'Emerald City Supporters' hung the banner in the away fans section.
Video footage shows stadium security make their way over to the group and attempt to remove the small banner. But when the fans refuse to remove it, police arrive and ask the fans to either leave the BC Place Stadium or face arrest.
Subsequently, three fans can be seen being escorted from the stadium, one holding up the banner as she leaves.
The YouTube video description reads: "This banner was held at entry for the Stadium to decide if we could display it. We were allowed to display it. After we had it returned to us the MLS league officials decided it was inappropriate and had BC Place security and Vancouver police try to confiscate it.
It continues, "In the end, they removed both ECS presidents and another member. This is a continuous issue that the MLS has been having with the ECS. Major League Soccer is proving by their actions that they are not Anti-Racist like they say they are or Anti-Fascist like they would like to say they are."
Reports suggest that the sign was considered "political speech" and was therefore removed from the game.
In a tweet addressed to the MLS and League Commissioner Don Garber, one of the ejected fans, Tom Biro wrote: "Being anti-fascist isn't a political statement. Ever. Sincerely, Tom."
Biro continued in a series of follow-up tweets: "We got kicked out of BC Place for this banner because MLS told them to do it… I know that some people think that being anti-fascist is a political statement. I disagree and always will. This just isn't political to me.
"I can't believe we [are] even having to have this conversation. I woke up dumbfounded. I feel worse about this than I did last night… This league, yet again, promotes a thing while also slamming others for a thing. It's f**king awful."
READ MORE: Anti-Semitic Anne Frank stickers appear in Germany in copy of Lazio ultras' behavior
Seattle drew the game 0-0 away to Vancouver in front of an attendance of 28,000. The Conference semifinal return leg will be held in Seattle on Friday.