NFL star Zach Miller has 'successful' surgery to save leg after horror injury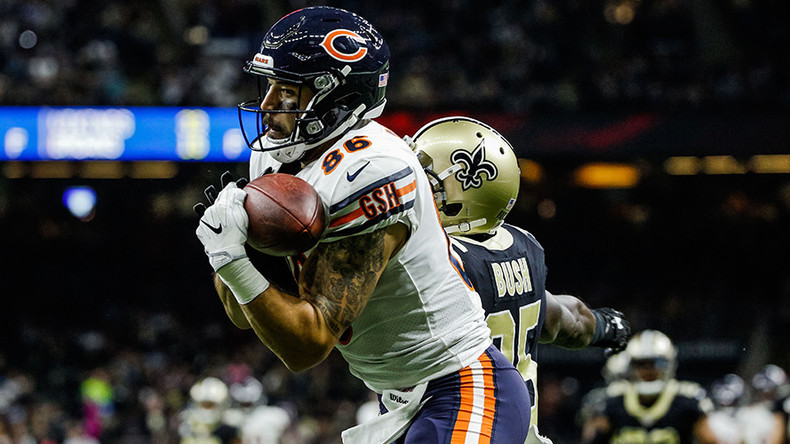 Chicago Bears' Zach Miller has undergone a successful emergency operation to save his left leg following a horrific injury in his team's NFL game at the New Orleans Saints on Sunday.
Miller dislocated his left knee while collecting a pass during the third quarter of his team's 20-12 defeat. The tight end underwent emergency surgery on Sunday to repair a damaged artery, with vascular surgeons grafting tissue from his right leg onto the left one. The Bears released a statement on Monday saying that the operation had been "successful" and that the injury had been "stabilized."
Also on Monday, Bears head coach John Fox said at a press conference that Miller was doing "as good as could be expected," but cautioned that he was "not out of the woods."
"He's got a good pulse and good feeling in his foot, not to say he's out of the woods but it's as good as could be expected," said Fox.
Remarkably, Fox said that Miller had asked the coach to tell his teammates to "hang in there."
"That's just him. That's the kind of person he is and the kind of teammate he is," Fox said.
Miller, 33, will remain under observation at the University Medical Center in New Orleans.
His injury on Sunday shocked the sporting world, with footage of the incident showing Miller's left leg contort as he collected what the team thought was a touchdown pass from quarterback Mitchell Trubisky.
However, officials ruled it an incomplete pass after viewing the replay and said that the ball had been out of Miller's control.
Miller was carted off immediately after the injury, and it was later reported that the injury was "more significant" than a regular dislocation and that Miller was in danger of losing his leg.
The emergency surgery appears to have allayed those initial fears, although Miller faces a long road to recovery after having a promising start to the season cruelly cut short.
Miller's career has been blighted by injury, and he missed the last six games of 2016 with a fractured foot, as well as being forced to miss the whole of 2012 through 2014 with various foot and shoulder problems.