Phoenix Suns player fined after making gun gesture at fan (VIDEO)
Phoenix Suns rookie Josh Jackson has been fined $35,000 by the National Basketball Association (NBA) for making a shooting gesture and cursing at a fan during a game against the Los Angeles Clippers.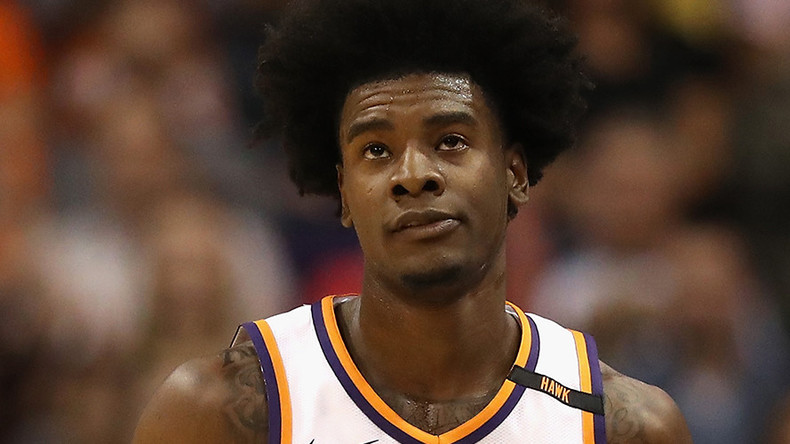 The NBA penalized the forward on Tuesday "for making a menacing gesture on the playing court and directing inappropriate language toward a fan," an official statement said.
The incident occurred in the Suns' away game to the Clippers last Saturday which saw the hosts outclass the visitors 130-88. A video which emerged on social media right after the game showed Jackson mimicking pulling a trigger, which was addressed to a fan, at whom the infuriated player directed profanities a moment later.
The athlete, however, insisted his gesture was misinterpreted and he didn't intend to point an imaginary gun at the spectator, who according to Jackson had been heckling him throughout the game.
"That's what most people thought I was going but I actually wasn't making a gun," Jackson told azcentral.com, adding: "I kind of wanted to put up the middle finger to him but I didn't do that because I felt like I was really being watched so I kind of halfway did it."
Jackson also complained that basketball players are not allowed to respond to fans' aggressive yelling. "It's kind of ridiculous fans can come and say whatever want to us and we can't do too much about it," he said.
READ MORE: Brazil international goalkeeper carjacked at gunpoint in Rio
This was the latest incident in a string of misfortunes that have recently affected the team. Last Wednesday, the Phoenix Suns set a new NBA anti-record after losing a season-opening game to the Portland Trail Blazers 124-76, beating the previous "achievement" of a 46-point losing margin which had been held by the Denver Nuggets since 1987.
On Sunday, the team's head coach Earl Watson was fired having spent just three games with the Suns this season.
You can share this story on social media: