Goalkeeper celebrates penalty hitting crossbar, only for ball to bounce into empty goal! (VIDEO)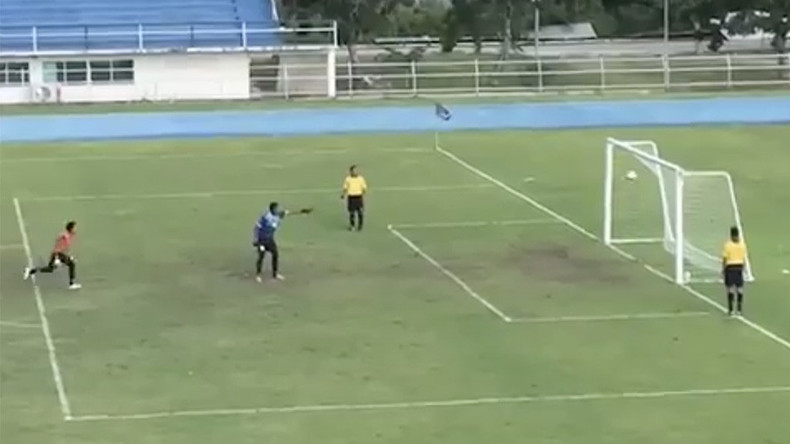 A Thai football match was decided in bizarre fashion when the goalkeeper celebrated a missed penalty shootout kick – only for the ball to freakishly spin off the crossbar and into the empty net.
With the two teams were still level at 2-2 after 90 minutes, the cup semi-final game between Thailand's Bangkok Sports and Satri Angthong went to extra time and penalties to decide a winner.
READ MORE: 3 people seriously injured, 120 detained in Belgium football hooligan riot (VIDEO)
The penalty shootout was deadlocked 19-19 and into the sudden death stage when Bangkok's goalkeeper, the last available penalty taker, stepped up to take his kick.
When his effort clattered against the crossbar, the Angthong keeper raced from his goal in celebration at what he thought was a long and hard-fought victory for his team, while the penalty taker hung his head in abject disappointment.
But the celebrations turned out to be premature when the ball returned from the air to smash down onto the ground and bounce towards the empty goal.
The keeper, realizing his mistake, dashed back to try and save an unlikely goal, but his efforts were not enough to stop the ball from bouncing agonizingly into the net.
It was then the penalty-taking goalie's turn to celebrate, sinking to his knees and being hugged by a teammate.
To make matters worse, Satri Angthong then missed their next penalty to book their place in the final.
"The penalty shootout was going on for a long time," Phakawat Kunpatee, who uploaded the bizarre footage, said. "Both teams scored their penalties. They were good quality. Then it looked like the other team had lost because they missed.
READ MORE: Footballer swigs beer thrown at goal-scoring teammate, then scores stunning equalizer (VIDEO)
"Everybody thought it was over and the crowd was cheering. The ball bounced and then started going backwards. The crowd saw it but the goalkeeper didn't.
"It went back into the goal then the other team missed. It was funny, but the goalkeeper felt like a bit silly after. He looked like he was going to cry."