Tennis star Venus Williams 'ready to talk' about fatal car crash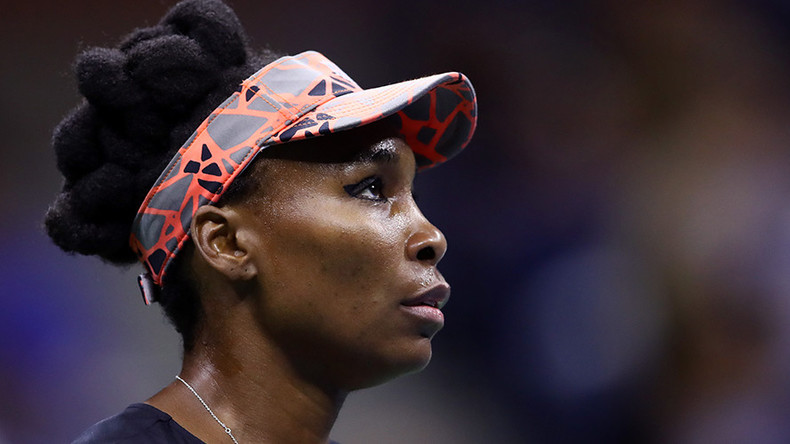 Multiple Grand Slam holder Venus Williams has reportedly agreed to talk to the lawyers representing the family of Jerome Barson, a victim of a fatal car crash the prominent US tennis player was involved in.
"After months of avoiding our repeated requests for deposition and after requesting the court order the same, we are pleased that Ms. Williams realized the importance of her testimony in this very serious case," Barson's attorney, Michael Steinger, told TMZ.
Williams was involved in the car crash at the end of June, when she drove through an intersection in Palm Beach Gardens, Florida, and was hit by a passing vehicle, the driver and passenger of which suffered significant injuries, including those which led to the death of the passenger.
According to original witness reports, Williams committed a traffic violation by driving through the red light, and made it impossible for Linda Barson, who was at the wheel of the other vehicle, to avoid hitting her car.
Linda Barson received significant injuries, including a cracked sternum and broken wrist, while her husband, Jerome, who was in the passenger seat, died two weeks later from the injuries suffered in the crash.
Later, the five-time Wimbledon champion was cleared of the charges after police had studied CCTV video footage of the accident.
"It has been determined the vehicle driven by Venus Williams lawfully entered the intersection on a circular green traffic signal, and attempted to travel north through the intersection to Ballenisles Drive," police said in a statement released in July.
Williams, who was not hurt in the accident, shifted the blame onto the driver of a third vehicle, who allegedly cut her off before she entered the intersection where the crash occurred.
Four-time Olympic champion Williams couldn't find words to describe her feelings when asked about the accident at a Wimbledon press conference in July.
The player, who has finally agreed to be deposed in the wrongful death suit, filed by Barson's family, is expected to talk to lawyers from the opposing side on November 9 in West Palm Beach, TMZ reports.