From Premier League to prison: Russian footballers play jail match with inmates
Published time: 19 Oct, 2017 13:46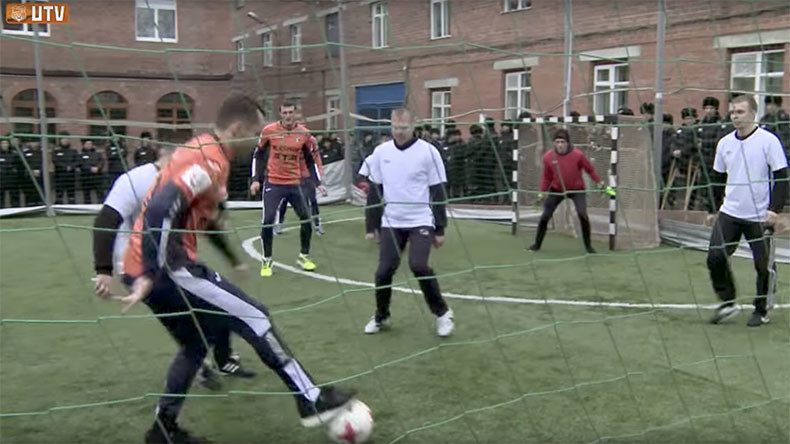 Russian football team FK Ural swapped their Premier League opposition for prisoners recently, when they played a game with inmates at a local jail.
Eight first-team players from the Russian Premier League (RPL) outfit played in the game at Correctional Facility No. 2 Ekaterinburg, the city from which the team hails.
Ural's Dmitry Arapov, Denis Kulakov, Yuri Bavin, Petrus Boumal, Artem Fidler, Nikolay Dimitrov, Roman Emelyanov and Vladimir Ilyin all took part in the five-a-side friendly.
Goals from Emelyanov, Fidler, Bavin and a brace from striker Ilyin ensured that Aleksandr Tarkhanov's team came away with a 5-2 win, after which Ural club president Grigory Ivanov praised the concept of the game.
"The guys approached it in a positive way because they know these people here have gotten themselves into a difficult life situation," Ivanov told reporters.
"There are people here who love football and play football, so the guys gladly came to today's game to hopefully give them something to cheer about. They are serving their punishment here. I think it will be easier to get out when they play football."
The scenario of a football match taking place within prison boundaries - usually with prisoners taking on prison guards - has already inspired a number of films, including 'The Longest Yard', its English equivalent 'Mean Machine', starring former footballer Vinnie Jones, and the classic wartime movie 'Escape to Victory,' starring Brazilian legend Pelé.
This time in Ekaterinburg, the guards watched from the sidelines as the inmates and the RPL stars played against each other, with nothing but pride at stake.
"We created a good relationship with the prison leaders. They and the staff of this facility will come to our matches. Our guys treated this event positively. We should help people to return to a normal life," said Ural midfielder, Artem Fidler.
READ MORE: Man City coach dedicates Champions League win to jailed Catalan separatists
"I want to thank the management at the prison. They have done something major to popularize sport. They have good facilities for football. I think for them today it was a big event, because our town's team came here. I think this match will live with them for a long time," he added.