3.5mn ticket applications made for Russia 2018 World Cup over 1st sales phase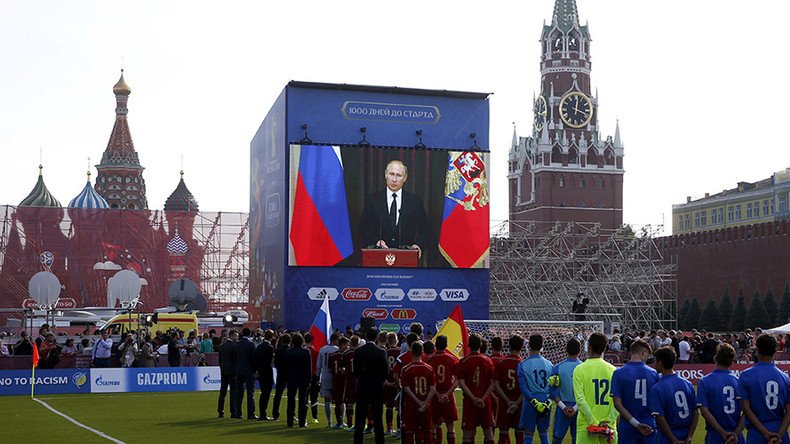 A whopping 3.5 million applications have been made for FIFA 2018 World Cup Russia tickets during the first phase of tickets sales, which ended Thursday, FIFA has announced.
The first phase began at 12:00 Moscow time on September 14 and ran until 12:00 Moscow time Thursday, October 12, over which time a total 3,496,204 tickets were requested for world football's showpiece event.
A huge 150,000 applications have been made for the tournament's opening match on June 14 and more than 300,000 for the final on July 15. Both games will be held at Moscow's newly-renovated Luzhniki Stadium, which has a maximum capacity of 81,000.
The first sales phase will restart on November 16, where fans will be able to request tickets on a first-come, first-served basis.
While most ticket applications came from residents of the host nation, fans from Germany, Brazil, Argentina, Mexico, USA, Colombia, Egypt, China and Poland made up the rest of the Top 10.
There are just nine places at the World Cup left, with hosts Russia, Brazil, Iran, Japan, Mexico, Belgium, Korea Republic, Saudi Arabia, Germany, England, Spain, Nigeria, Costa Rica, Poland, Egypt, Iceland, Serbia, France, Portugal, Panama, Uruguay, Colombia and Argentina all confirmed as taking part.
23👌🇷🇺RUS🇧🇷BRA🇮🇷IRN🇯🇵JPN🇲🇽MEX🇧🇪BEL🇰🇷KOR🇸🇦KSA🇩🇪GER🦁ENG🇪🇸ESP🇳🇬NGA🇨🇷CRC🇵🇱POL🇪🇬EGY🇮🇸ISL🇷🇸SRB🇫🇷FRA🇵🇹POR🇦🇷ARG🇨🇴COL🇺🇾URU🇵🇦PAN

— #WCQ ⚽️🏆 (@FIFAWorldCup) October 11, 2017
Teams who failed to qualify automatically through the group stage will meet in the play-off stage held from November 6 to November 14.
After the play-off stage, the final Russia 2018 World Cup draw which will take place inside the concert hall at Moscow's State Kremlin Palace on December 1, which will see each qualified team allocated into groups for the tournament.
READ MORE: Dramatic videos of Messi's hat-trick leading Argentina to World Cup 2018
World Cup Russia 2018 tickets are divided into Category 1, Category 2, Category 3 and Category 4 price brackets, with Category 1, 2 and 3 including price ranges exclusively for non-Russian residents, ranked most expensive to least expensive. Category 4 includes prices solely available to Russian residents.
Tickets for the final match range from $455 to $1,100 for non-residents. Russian residents will be able to purchase the same tickets for 7,040 rubles ($121), the lowest price in World Cup history.
READ MORE: 'What apprehension? We are ready for whatever' – Moscow police chief on World Cup
To apply for tickets, fans must receive a FAN ID, which acts as a 'supporter passport' throughout the tournament and a visa for foreign visitors, a concept tried out at this summer's Confederations Cup in Russia.
The FIFA World Cup Russia 2018 will be held next summer in 12 different stadiums across 11 Russian cities, the first time the tournament has been held in the country.
You can share this story on social media: