FIFA's 6th operational visit to Russia 'fruitful & productive' – events officer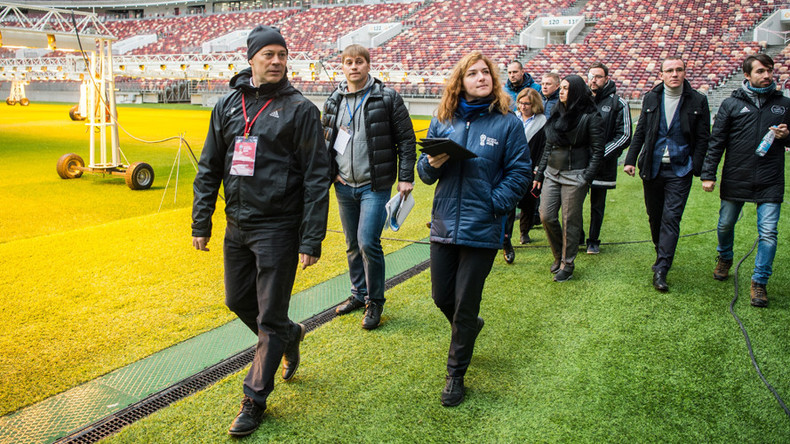 FIFA Chief Competitions and Events Officer Colin Smith has told journalists the organization's sixth operational visit to Russia to review World Cup stadia was fruitful and productive.
Smith headed a delegation along with Local Organizing Committee (LOC) head and FIFA Council member Alexey Sorokin to "discuss the operational activities" of FIFA 2018 World Cup host venues.
The delegation from world football's governing body included a range of experts in topics ranging from the design of stadiums to ticket programs, with the aim of estimating the competence of the stadiums during the World Cup, held from June 14 to July 15 next summer.
"In general the state of readiness is good, planning is good and on track," Smith told journalists, Reuters reported.
"There is a significant amount of work to be done, especially in the next two-three months to have all the infrastructure in terms of construction and some of the commissioning works completed by the end of the year," Smith said.
The inspection began in Ekaterinburg on September 26 and visited a total eight World Cup stadiums situated there and in the host cities of Samara, Saransk, Nizhny Novgorod, Rostov-on-Don, Volgograd, Kaliningrad and ending in Moscow on Thursday, to satisfactory results.
READ MORE: Putin urges final push for 2018 World Cup preparations
In Moscow, the delegation visited the city's majestic Luzhniki Stadium, host of both the 2018 World Cup opening game and final match. It will be one of two World Cup arenas in the Russian capital, the other being Spartak Stadium.
The newly-renovated Luzhniki opened in September to launch the leviathan official World Cup trophy tour, which will visit 24 Russian cities and 50 global cities over 123 days, making it the longest in FIFA history.
Smith did however echo Russian President Vladimir Putin's warning that Russia has no wiggle room to be complacent should it want to adhere to the tight construction deadlines.
Speaking at a meeting with sports officials in Moscow on Tuesday, Putin said Russia needed "to pay the utmost attention to each stage of the work, every day" and that if the country relaxes "then things won't be fully completed."
READ MORE: 'Construction delays, but local govt vows to finish ASAP': FIFA on Samara 2018 World Cup arena
Cosmos Arena, located 1,000km east of Moscow in Samara, has attracted particular attention in that respect. In August, the 45,000-seater stadium, which will host six World Cup games, was reported to be 30 days behind schedule.
"The contractors, the city, the region, all relevant bodies have indicated that they are able to deliver the stadium by the end of the year," Smith said of the arena. "That's one of the cases where the timelines are tight and they need to be respected."
You can share this story on social media: