Putin urges final push for 2018 World Cup preparations
Published time: 4 Oct, 2017 14:48
Edited time: 4 Oct, 2017 15:06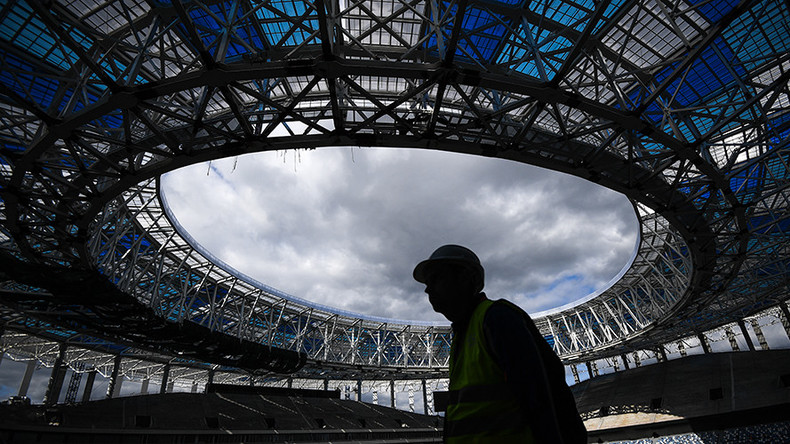 President Vladimir Putin has called for no let-up in Russia's preparations for next year's FIFA World Cup, which will be held in the country for the first time.
Speaking at a meeting with sports officials in Moscow on Tuesday, the Russian leader said that while preparations for football's showpiece event were generally progressing well, any delays were "unacceptable."
Putin acknowledged that "some delays exist," but added that they were "not critical."
The Russian leader nevertheless warned against any complacency, saying that the final stage of preparations is often the most difficult, as everything seems complete when in reality there is still work to be done.
"If a full stop has not been marked, it means it's not been completed, it hasn't been done," Putin said, TASS reported.
"If we relax, then things won't be fully completed. We need to pay the utmost attention to each stage of the work, every day."
Russia hosts the FIFA 2018 World Cup next summer from June 14 to July 15, at 12 stadiums across 11 hosts cities: Moscow, St. Petersburg, Kazan, Sochi, Kaliningrad, Rostov-on-Don, Saransk, Samara, Ekaterinburg, Volgograd, and Nizhny Novgorod.
READ MORE: Sochi's Fisht stadium fully ready for World Cup – governor
In June and July of this year Russia hosted the FIFA Confederations Cup, seen as a precursor to the main event next summer. The tournament was deemed a success, with fans and players praising the stadiums and atmosphere.