World Cup 2018 qualifying: Teams face final battle to book places in Russia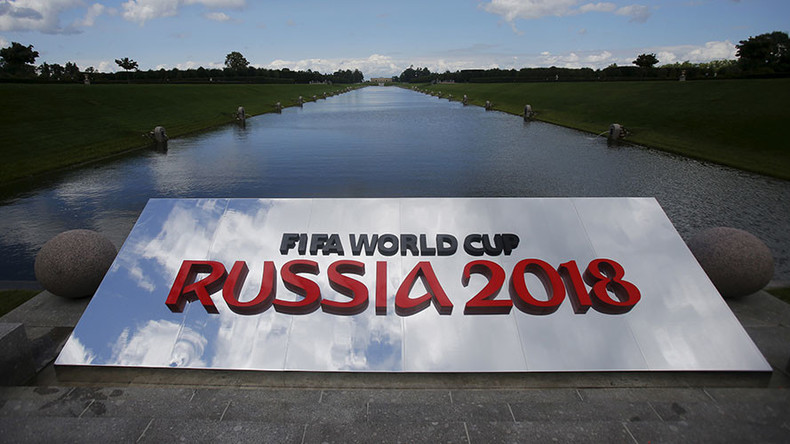 As the qualification process for next year's FIFA World Cup in Russia reaches its conclusion around the globe over the next few days, RT Sport looks at the state of play in the various continental qualifying groups.
Eight teams have already booked their places in Russia, including the hosts, who qualify automatically.
Five-time winners Brazil have qualified, as have Mexico, Belgium, Saudi Arabia, Iran, Japan and South Korea. That leaves 24 of the 32 places still open.
Europe
Belgium became the first European nation to qualify (apart from hosts Russia) when they defeated Greece 2-1 in the last round of games, giving them an unassailable lead at the top of Group H with two matches to spare.
Elsewhere though it's all to play for, with eight spots as group winners still up for grabs, as well as the playoff places for the eight best runners-up.
France lead the way in Group A - where they sit top on 16 points, one ahead of Sweden in second and four ahead of the Netherlands in third. The French look well placed to qualify, with their remaining games against Bulgaria away and Belarus at home. The last round of Group A games on Tuesday will likely determine who finishes in the runner-up spot, with Sweden taking on the Netherlands in a mouth-watering clash in Amsterdam.
In Group B, Switzerland are top on 24 points with an unblemished record, with European champions Portugal three points behind. The Swiss take on Hungary at home on Saturday and Portugal play Andorra away the same day, before the pair meet in Portugal in a crunch final game match-up which could determine who goes through automatically and who faces the playoffs as a best runner-up.
World champions and Confederations Cup winners Germany look home and dry in Group C, where they are five points clear of Northern Ireland, who have already secured second spot at least. The pair meet in Belfast on Thursday, when Germany are widely expected to seal top spot. In the last round of games on Sunday, Germany take on Azerbaijan at home and Northern Ireland play Norway away. Only a double upset of epic proportions would deprive the Germans of top spot, it seems.
In Group D, Serbia are clear in first on 18 points, ahead of Wales who are a point ahead of Republic of Ireland in third. Serbia face Austria and Georgia in their last group games, on Friday and Monday respectively. The most intriguing battle will be for second spot, with Wales and Ireland meeting in Cardiff in the final group stage game. Wales' Real Madrid star Gareth Bale has been ruled out with injury, however, dealing a huge blow to his team.
In Group E, Poland sit top on 19 points from their eight matches played, ahead of Montenegro and Denmark, who are three points behind in second and third respectively. The pair meet on Thursday in Podgorica in a crucial game, while the Poles take on Armenia away. The final group stage games on Sunday see Poland play Montenegro in Warsaw and Denmark take on Romania in Copenhagen.
England are clear favorites in Group F and need just one win from their final two group games to ensure automatic qualification. Gareth Southgate's men take on Slovenia at Wembley on Thursday before playing Lithuania away on Sunday. The battle for second spot is very much on, with Slovakia currently on 15 points, one ahead of both Slovenia and Scotland. The Scots meet Slovakia at home on Thursday, before taking on Slovenia away in their final group game – the same day as Slovakia face bottom-of-the-table Malta at home.
Former World Cup winners Spain and Italy are battling for top spot in Group G, although the Spaniards are in the ascendency after their recent win over their rivals and lead the group on 22 points, three clear of Italy. It seems unlikely the pair will swap places, as Spain face Albania at home on Friday, while the Italians play Macedonia. That's before Italy travel to Macedonia for their last group game on Monday, when Spain play Israel away.
Belgium have already wrapped up Group H, but the battle for second spot is very much on between Bosnia-Herzegovina, currently in second on 14 points, and Greece, who are a point behind. Bosnia-Herzegovina take on Belgium at home on Saturday, while Greece are away at Cyprus. The final group fixtures on Tuesday see Bosnia-Herzegovina travel to Estonia and the Greeks take on rock-bottom Gibraltar at home. Greece appear to have the easier fixtures, so could be good for a playoff spot.
The Group I finale could be the most intriguing of all. Croatia and Euro 2016 heroes Iceland are level-pegging at the top on 16 points, two ahead of Turkey and Ukraine. Croatia face Finland on Friday, while Ukraine are away in Kosovo and Iceland travel to Turkey. The final round of games on Monday sees Ukraine welcome Croatia, while Turkey travel to Finland and Iceland host Kosovo.
Asia
The group stage has already concluded in Asia, where Iran and Japan have booked their places in Russia as winners of their respective groups, while South Korea and Saudi Arabia claimed automatic spots as runners-up.
The big story, though, is the Syrian dream of reaching Russia next year. The Syrians finished third in their group and meet Australia on Thursday in the first game of a two-legged continental playoff in Malaysia, where Syria have been forced to play their home matches due to the conflict in the Middle Eastern nation.
The second leg will be played in Australia on October 10, and the victors over the two legs will book a spot in an intercontinental playoff against a CONCACAF team later in the year, the winners of which will finally earn a place in Russia.
The Syrian story is nothing short of remarkable, and reaching Russia would be a major achievement for the war-torn nation.
Africa
Qualifying in Africa doesn't wrap up until November, although a round of games on October 6-8 could see current group leaders Tunisia, Nigeria, Ivory Coast and Egypt claim spots in Russia.
Plucky Cape Verde are also in with a chance, and lie second on goal difference behind Burkina Faso in their group. The Cape Verdeans could become the smallest team to reach the World Cup. They face a showdown at home against Senegal on Saturday, before wrapping up their qualifying campaign away against Burkina Faso in what could be a qualification decider on November 6.
South America
Brazil have already qualified for Russia 2018 as winners of the South American qualifying group, but continental giants Argentina and Chile are under major pressure to secure one of the remaining three automatic spots for Russia 2018.
The final group games on October 5 and 10 will determine who secures the three automatic spots behind Brazil, and who has to settle for fifth place and face an intercontinental playoff against New Zealand. Uruguay, Colombia, and Peru currently occupy second to fourth spots respectively, with Argentina in fifth and Chile in sixth.
The crunch games in the first matches of the final two rounds of qualifying pit Argentina against Peru, Chile against Ecuador, Venezuela against Uruguay, and Colombia against Paraguay on Thursday.
Following that, the last round of group matches sees Uruguay host Bolivia, Colombia travel to Peru, Argentina take on Ecuador, and Chile travel to Brazil. A major shock could be on the cards if either Argentina or Chile fail to qualify.
North America, Central America and the Caribbean
Things are tight ahead of the final qualifying games on October 6 and 10. Mexico have already qualified, thanks to their 1-0 win over Panama in the last round. However, the remaining two automatic berths are open, as is fourth spot, which books a place in an intercontinental playoff against the winners of the Syria-Australia clash.
Costa Rica are currently in second, with Panama, USA and Honduras in third-fifth respectively. The Stars and Stripes take on Panama on October 6, the same day as Costa Rica host Honduras. In the final round of games, Honduras face Mexico, Panama play Costa Rica and Gold Cup winners USA play bottom-of-the-table Trinidad and Tobago.