What would happen to FC Barcelona if Catalonia split from Spain?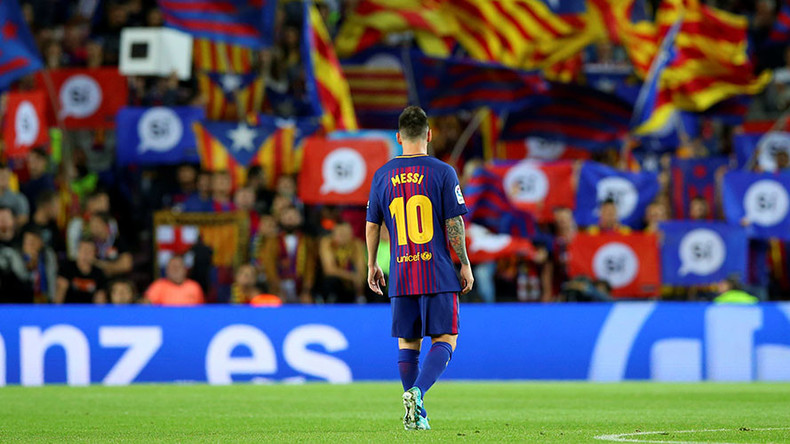 As Spain reels from the turmoil over the controversial independence referendum in Catalonia, the region's most famous sports team, FC Barcelona, has found itself increasingly in the spotlight.
Hundreds of people were injured on Sunday when police clashed with Catalan voters turning out for an independence referendum that had been ruled illegal by the central authorities in Madrid.
Before Sunday's vote, FC Barcelona had called for the Spanish authorities to allow the vote to go ahead unobstructed.
When it became clear that was not going to happen, Barca had asked for their La Liga home match against Las Palmas on the day of the vote to be cancelled – a request that was rejected.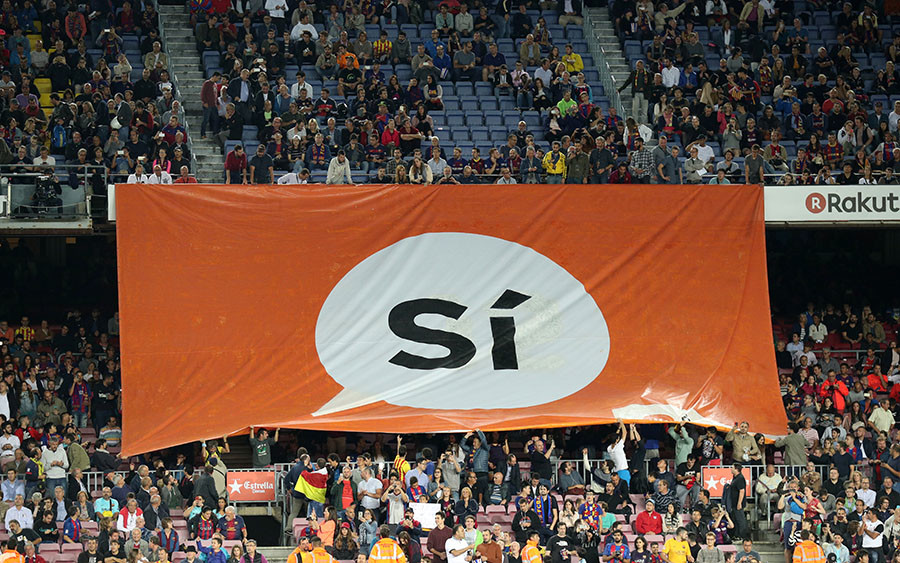 That led to Barca opting to play the game behind closed doors in a sign of protest.
Since the referendum and ensuing chaos, Barca defender Gerard Pique – who has won more than 90 caps for Spain but who is a fervent supporter of Catalan independence – has said he is prepared to step down from the national team if his backing of the vote is considered a problem.
The club itself has also announced it will join a broader strike planned in Catalonian for Tuesday.
All of this is unsurprising, given that Barca has long been a vehicle for, and source of, the drive for Catalan freedom from Spain. Its famous motto that it is 'mes que un club' – more than a club – is apt, and never more so than now.
READ MORE: Barcelona star Pique ready to quit Spain national team over Catalan referendum support
But the current drive by Catalans for self-determination raises the question as to what would happen to Barca should the region claim full independence from Spain.
Firstly, it should be noted that independence for Catalonian seems a remote prospect at present, given the tough stance taken by the authorities in Madrid and their determination even to countenance any prospect of an official referendum.
However, the desire for independence shown by many Catalans is equally evident, and is not likely to dissipate in the near future.
Assuming that those backing Catalan independence get their way, it would undoubtedly lead to calls for Barca to be pushed out of La Liga.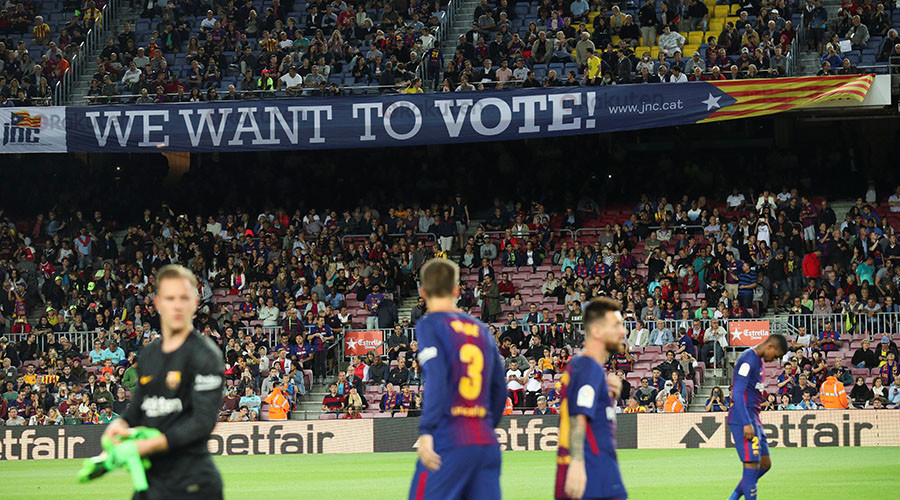 Relations are already strained between Barca and the league authorities, and much has been made of the fact that La Liga president Javier Tebas is an avid fan of the Catalan club's arch rivals, Real Madrid.
Any breakaway would fuel resentment, and pressure would inevitably follow from those seeking to punish the region and its main sporting pride and joy.
Barca claim particularly lucrative La Liga TV rights. Rivals would surely begrudge allowing that to continue for a team that would officially be outside the country – another reason for the Catalans to be driven out of the league.
The pain of any Barca departure from the league would be mutual, of course. The league would be deprived of one of its two biggest teams; the world would be denied the Real-Barca El Clasico, one of the great sporting spectacles.
READ MORE: FC Barcelona release statement condemning government obstruction of Catalan referendum
A deal could be struck on Barca's continued participation in La Liga, but it would have to be done on cold, hard business interests – which would be hard in the acrimonious climate of a Catalan secession.
The prospect of an exclusively Catalonian league seems unappealing. Of the teams in Spain's top flight, only Barca, city rivals Espanyol, and Girona hail from the region. The lack of competition would seemingly rule out that option as a non-starter.
With a stadium that seats close to 100,000 fans, and millions of supporters around the world, it's feasible that Barca could be offered a place in another of Europe's top leagues. Geographically, France and its Ligue 1 would seem the likely option.
But again, that discounts potential animosity from native French clubs, and is assuming financial gains would trump any opposition to the plan. So, more uncertainty there.
The creation of a 'European Super League' – touted by some – would appear to solve these problems for Barca, but is equally shrouded in debate.
UEFA is staunchly against the plan, and it would take a shift of seismic proportions in domestic football around Europe to take place. So, another non-starter.
All of this means that Barcelona would face huge uncertainty in the event of a Catalan break from Spain.
The late English manager Sir Bobby Robson, in charge at the Nou Camp during the 1990s, once said that "Catalonia is a country and FC Barcelona is their army." But if the 'battle' for independence were won, then surely the troops would be demobilized.
Catalonia's push for self-determination, and Barcelona's role in it, could therefore lead to one of the greatest acts of self-sacrifice in sporting history.
Some might see this as a small price to pay; others would offer the cautionary refrain – be careful what you wish for.
You can share this story on social media: