Brazilian footballer accidentally flicks yellow card from ref's hand, gets sent off (VIDEO)
Published time: 2 Oct, 2017 15:09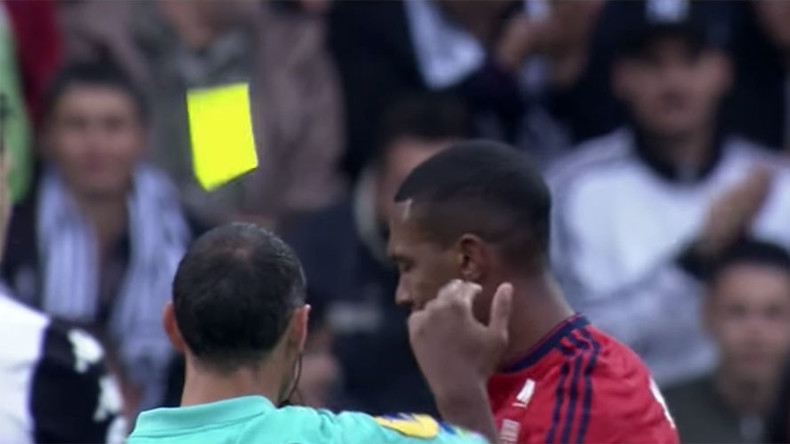 Brazillian footballer Marcelo saw red when playing for club side Olympique Lyonnais (Lyon) on Sunday – by accidentally flicking a yellow card from the referee's hand.
READ MORE: FC Barcelona plays in empty stadium as defiant Catalans go to polls despite crackdown
Defender Marcelo, who joined the French club this summer for €7 million, got booked for a foul on opposition player Baptiste Santamaria. The incident occurred during Lyon's Ligue 1 match against Angers SCO, and Marcelo deemed the punishment harsh.
As referee Mikael Lesage approached Marcelo to book him for the foul, the player remonstrated with officials, before turning away and throwing his left hand up in disgust.
At that very moment, Lesage lowered his card-showing hand, and resulting mid-air clash sent the yellow card flying out of the referee's hand.
Thinking that the incident was a show of petulance, Lesage swiftly produced a straight red, ignoring Marcelo's heightened apoplexy at his sending off.
READ MORE: Barcelona star Pique ready to quit Spain national team over Catalan referendum support
Social media users commented that it was perhaps the strangest red card ever given, and possibly the fastest ever yellow-red combination to boot.
The dismissal on 50 minutes with the score at 3-1 proved to be crucial, as Lyon were pegged back twice by Angers goals in the 58th and 67th minute, leveling the score at 3-3 and ensuring that the points were shared.
Those goals meant that Lyon missed their chance to climb to 5th spot in the Ligue 1 table and currently sit 8th; Angers now sit 12th.