FC Barcelona plays in empty stadium as defiant Catalans go to polls despite crackdown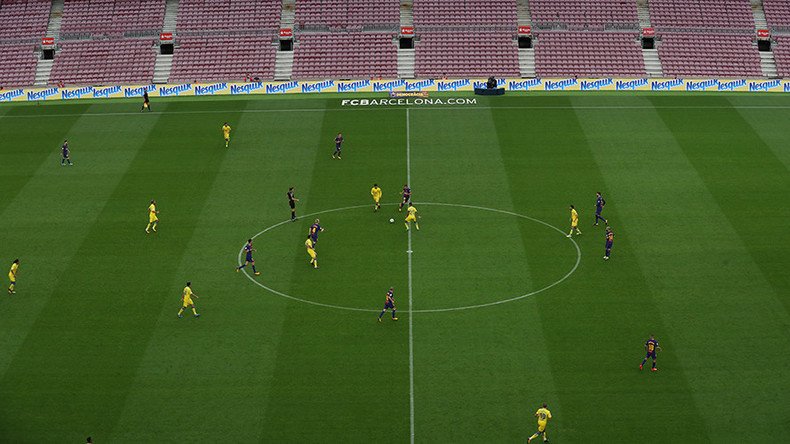 One of the most popular teams in world sport had the bizarre experience of playing in a deserted 99,000 seater stadium on Sunday as FC Barcelona faced off against Las Palmas while Catalans voted in an independence referendum amidst a violent police crackdown.
Barcelona, featuring Lionel Messi and numerous other soccer superstars, took to the field to warm up in in the eerily quiet Nou Camp wearing a special kit featuring the colors of the Catalan flag.
Their opponents, Las Palmas, inflamed tension in Catalonia ahead of the clash by adding a small Spanish flag to their jerseys to show their support for Spanish unity.
"We decided to wear a small Spanish flag on our shirts today to display unequivocally our hope in the future of this country," the Canary Islands club said in a statement.
READ MORE: Catalonia: Shocking videos capture police violence against voters as hundreds injured in crackdown
Earlier Sunday, there had been numerous media reports that the game was cancelled. However, as kickoff time approached, Barcelona released a statement confirming the game was to go ahead.
"FC Barcelona condemns the events which have taken place in many parts of Catalonia today in order to prevent its citizens exercising their democratic right to free expression," the club said.
"Given the exceptional nature of events, the Board of Directors have decided that the FC Barcelona first-team game against Las Palmas will be played behind closed doors following the Professional Football League's refusal to postpone the game."
Catalan newspaper La Vanguardia report that the club, recognised around the world as a symbol of Catalonia, tried throughout Sunday to have the game postponed and rescheduled for another day but was met with opposition from La Liga officials.
The club's president, Josep Maria Bartomeu, told beIN Sports they had permission from Catalonia's Mossos d'Esquadra police force to play the game in front of a crowd as normal, but they chose to play in the empty stadium because they risked being penalised six league points and to show their disagreement with the Spanish government's clampdown on the referendum.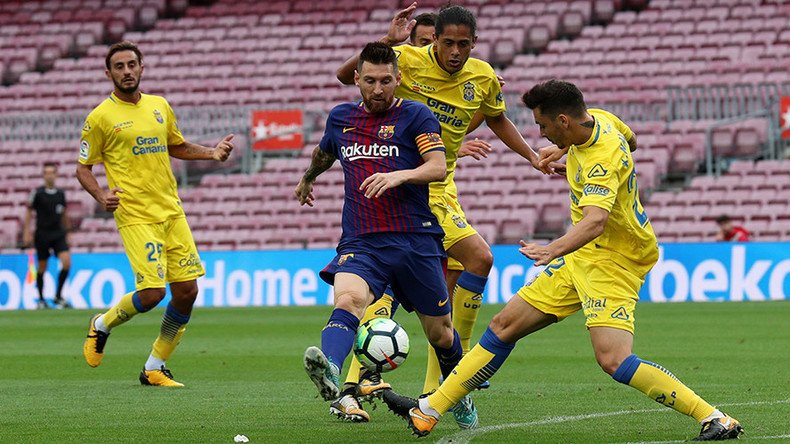 "We have decided that instead of cancelling the game, which is what we wanted, we will play behind closed doors and we want to give our support to those who are suffering from the lack of freedom of expression,"Bartomeu said.
"So, we decided to play the game and do it behind closed doors so that [people] can see our disagreement... We do it for exceptional reasons, not for safety."
The decision proved unpopular with some high ranking officials at the club and it even led to the resignations of Vice President Carles Vilarrubi and board member Jordi Mones.
On the field Barcelona changed into their standard kit before kick-off and subsequently dispatched Las Palmas without a huge degree of fuss.
The game was a tight affair for much of the opening stages but following a goal in the 49th minute from Sergio Busquets, Barcelona went on to win with relative ease.
Goals in the 70th and 77th minute from Lionel Messi made it a comfortable outing for the Catalan giants even if off the field their city was in turmoil.
You can share this story on social media: