'Nothing to do with the lion': 'Stupid' rugby pro sidelined after lion bite (VIDEO)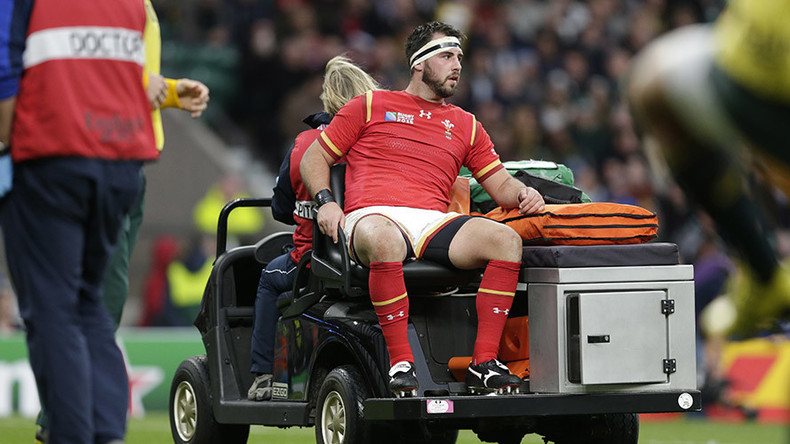 Welsh rugby player Scott Baldwin was forced to miss his team's clash with South African side The Cheetahs after a lion bit his hand while he was trying to pet it.
Baldwin was at Weltevrede Game Lodge on the outskirts of Bloemfontein for a team trip when he came face to face with the lion who nearly ended his rugby career.
Former England international Andy Goode tweeted footage on Friday showing Baldwin with his hand deep in the lion's cage, petting the deadly cat.
Unsurprisingly, the lion snaps and Baldwin is lucky to escape with his hand still attached to his arm after the big cat sinks his teeth into the hooker's skin.
Ospreys Head Coach Steve Tandy could scarcely hide his disbelief at Baldwin's stupidity. "There was an incident with a lion, but in fairness it was nothing to do with the lion," Tandy told the BBC.
"He did bite Scott but when you put your hand in a fence where there is a lion, then you will get bitten. It was pretty stupid on Scott's behalf and he is pretty lucky. It was a good environment and we were told how far back to stand."
READ MORE: Manchester City star Sergio Aguero injured in car accident
"I don't know what sort of wildlife show Scott has been watching where you can pat a lion on the head as if it's a kitten."
Baldwin took to Twitter to apologize to Ospreys fans for missing the game because of his injury. He added that his hand is recovering and he won't be sidelined for long.
1/3 Sorry all Ospreys fans for letting you and the team down by missing the game through the bite!

— scott baldwin (@scottbaldwin2) September 30, 2017
Baldwin's Ospreys teammates had to do without him on Friday night and they fared little better than Baldwin did in his clash with the lion, suffering a 44-25 mauling at the hands of the Cheetahs in Bloemfontein.