Toddler left bloodied after being struck by 105mph baseball at New York Yankees game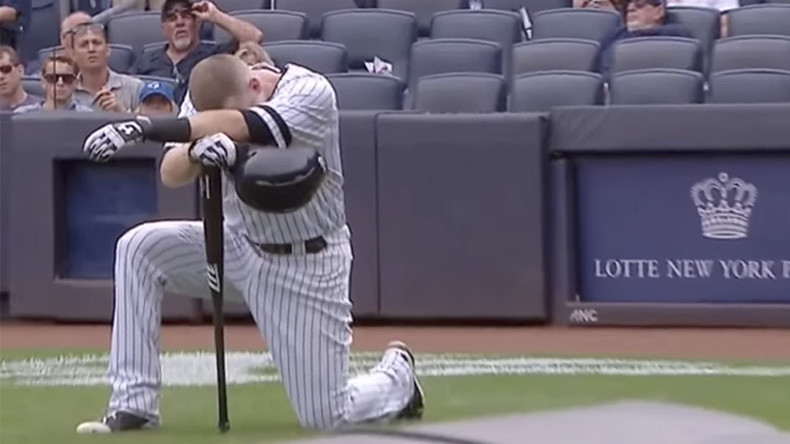 A young girl was left bloodied after being hit by a baseball travelling 105 mph during New York Yankees' home game against Minnesota Twins on Wednesday.
The child was sitting in the crowd at Yankees Stadium when she was struck by a foul ball hit by Yankees batter Todd Frazier, causing play to be stopped as the youngster received treatment before being transported from the seating area and taken to hospital for further treatment.
Frazier was visibly shaken by the incident, dropping to one knee and stepping out of the batter's box to crouch and say a silent prayer, kissing his bat as medical personnel provided assistance.
Several other players were also seen in states of distress, anxiously praying or kneeling down on the turf. Some shed tears as the young girl was being tended to.
TV commentators for the game said the images were too graphic to show on television.
"I hope she's alright," Frazier told reporters after the game. "It's just something that I wish never happened. It was tough to watch and tough to be a part of, to be honest. I thought of my kids. I have two kids under 3 years old. I just hope she's alright.
"I know the dad or whoever it was that was with them was trying their hardest, but the ball's coming at 120 miles an hour at them and the ball's hooking."
Frazier later wished the child a speedy recovery on Twitter.
"2day was tuff watching that little girl.I'll be thinkin about her everyday n her family. Please keep this beautiful girl in ur prayers 2nite," he wrote.
In a statement released by the team, the Yankees said, "The child who was struck with a batted ball today was given first aid at the ballpark and is receiving medical attention at an area hospital.
"The federal Health Insurance Portability and Accountability Act, known as HIPAA, prevents the team from giving more information. We will have no further comment at this time."
Yankees manager Joe Girardi later reported the girl was OK, saying he had heard from stadium security, but the incident has led to further calls for safety netting to be installed at stadiums.
Frazier agreed there should be more safety measures at games, saying, "I think the netting should be up. I think every stadium should have it, but we're not at that point yet. Hopefully, they took a look at all this and they figure something out."
Those views were echoed by Minnesota second baseman Brian Dozier, who appeared particularly upset over the incident.
Major League Baseball sent out a memo prior to the 2016 season "encouraging" teams to have "netting that shields from line-drive foul balls", although the majority are yet to implement the recommended steps.
It isn't the first time a fan has been hit at Yankees Stadium. In July, a male fan was left needing medical attention when hit by a foul ball and in May a young boy was hit in the head and left bloodied by a broken bat.
The Yankees said in August that they "are seriously exploring extending the netting prior to the 2018 season."