NFL star receives wild reception on week 1 after raising $32mn for Hurricane Harvey victims (VIDEO)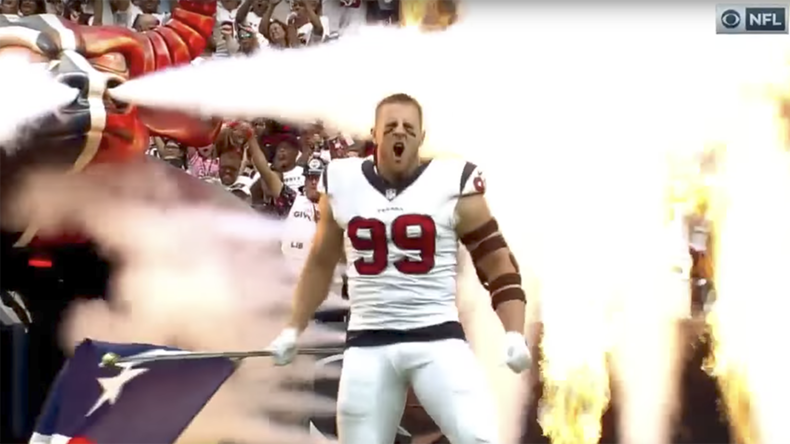 Houston Texans defensive end JJ Watt received a fiery, heartfelt welcome when he took to the field on NFL week one on Sunday for the first time since raising $32 million for those affected by Hurricane Harvey.
Hurricane Harvey claimed 69 lives in Texas and caused billions of dollars of damage to property, displacing as many as 300,000 residents, it also caused severe flooding to the Houston metropolitan area.
Watt launched the Hurricane Harvey fundraiser on August 26, with a goal to raise $200,000 but the number of donors skyrocketed to 200,000 and include celebrities such as Jimmy Fallon, Ellen DeGeneres and Drake.
"Hurricane Harvey has taken a catastrophic toll on our great city, while leaving many stranded and in need of assistance," the story on the fundraiser page reads.
"We must come together and collectively help rebuild the aspects of our community members lives that were damaged or lost.
"Any donation that you can spare, no matter how large or small, is greatly appreciated. We will come out of this stronger than ever. We are Texans."
Watt was named the NFL Players Association's Community Most Valuable Player for his efforts on Friday, but he couldn't stop the Texans losing their season opener against the Jacksonville Jaguars 29-7.
Watt injured his finger during the game and described his overall play as "terrible."
More than 89,000 people have since signed a petition to have a Texas highway named after the Texans number 99.