UFC champion Jon Jones 'fails doping test'
Published time: 23 Aug, 2017 12:16
Edited time: 11 Apr, 2018 14:07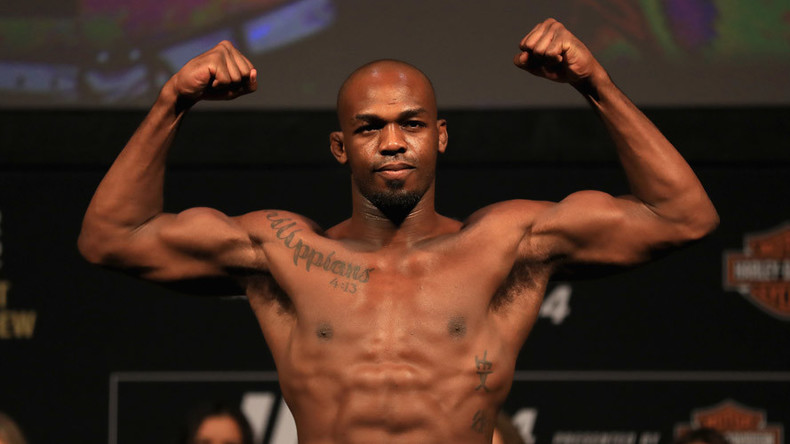 Jon Jones has potentially failed a doping test collected after the weigh-in ahead of his victory over Daniel Cormier for the light heavyweight UFC championship title just over a month ago, it has been announced.
The news was first reported by TMZ Sports, which said that Jones tested positive for steroids, naming the substance in question as Turinabol.
An official UFC statement, however, only says that the promotion has been notified by the US Anti-Doping Agency (USADA), which administrates the UFC's anti-doping policy, of a potential violation by Jones, referring to a test taken following the weigh-in on July 28.
"USADA, the independent administrator of the UFC Anti-Doping Policy, will handle the results management and appropriate adjudication of this case involving Jones, as it relates to the UFC Anti-Doping Policy and future UFC participation," read the statement.
"Under the UFC Anti-Doping Policy, there is a full and fair legal process that is afforded to all athletes before any sanctions are imposed. The California State Athletic Commission (CSAC) also retains jurisdiction over this matter as the sample collection was performed the day before Jones' bout at UFC 214 in Anaheim, CA, and USADA will work to ensure that the CSAC has the necessary information to determine its proper judgment of Jones' potential anti-doping violation."
If the failed test is confirmed, Jones may face up to a four-year suspension, as it would be his second violation of USADA rules. Last year, Jones was pulled from UFC 200 just days before he was due to face Cormier in the main event of the card.
Back then he tested positive for estrogen blockers, which he said came from a contaminated pill used to enhance sexual performance.
He beat Cormier at UFC 214 via technical knockout, when after a head kick he proceeded with a series of strikes on his downed opponent.
Cormier, who made the US Olympic freestyle wrestling team twice, has only been beaten twice in his eight-year MMA career, both times against Jones. In their first encounter at UFC 118 in 2015 he lost via unanimous decision.
Jones has only one loss on his record, which came as a result of using illegal downward elbow strikes, also known as 12-6 elbows.