UFC fighter Jon Jones gets doping ban for 'contaminated sex pill'
Published time: 8 Nov, 2016 15:40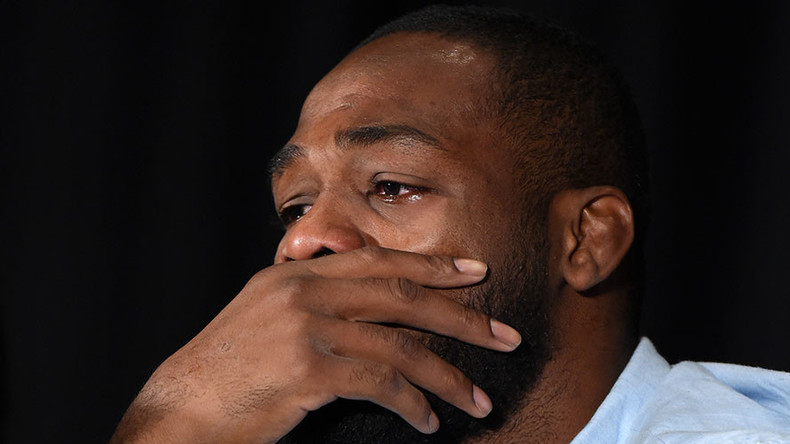 UFC superstar Jon Jones has been banned from competing for one year by the United States Anti-Doping Agency (USADA) for failing a drug test.
The former light-heavyweight champion was temporarily suspended by the mixed martial arts promotional company after the failed test during the build-up to his UFC 200 bout against fellow American Daniel Cormier.
Traces of the banned substances Letrozole and Hydroxy-Clomiphene – both of which are estrogen blockers – were found in Jones' system, but he claimed these came from a contaminated pill used to enhance sexual performance.
Jones maintained throughout that he was not a cheater, and the USADA confirmed his version of events, but arbitrators from McLaren Global Sports Solutions ruled that his 'reckless' use of the pill warranted a one-year ban.
"On the evidence before the Panel, the Applicant is not a drug cheat," a statement from the arbitrators said.
"He did not know that the tablet he took contained prohibited substances or that those substances had the capacity to enhance sporting performance.
"However by his imprudent use of what he pungently referred to as a 'd**k pill', he has not only lost a year of his career but an estimated nine million dollars.
"This outcome which he admits to be a wake-up call for him should serve as a warning to all others who participate in the same sport."
The ban has been backdated, so Jones will be free to return to action in July 2017. However, he could yet face further punishment from the Nevada State Athletic Commission.
Jones admitted he was hoping for a "better outcome," but said he was pleased he had been given the opportunity to defend himself.
"I have always maintained my innocence and I am very happy I have been cleared in any wrongdoing pursuant to the allegations made that I had intentionally taken a banned substance," Jones said in a statement to ESPN.
"I am pleased that in USADA's investigation they determined I was 'not a cheater of the sport.
"Being cleared of these allegations was very important to me. I have worked hard in and outside of the octagon to regain my image and my fighting career and will take these next eight months to continue my training and personal growth both as a man and an athlete.
"Thank you to all of my fans, teammates, coaches, sponsors and to the UFC for their continued support."
Despite the ban, former UFC star Chael Sonnen has announced Jones will headline Submission Underground 2 in December against Dan Henderson.
Sonnen says Jones will fight a wrestling match against Henderson on December 11 in Portland and told MMA Hour he does not think the ban will affect the bout.
"Grappling never has in the past, but the commission, if they ask for something, particularly if you're making a deal, you want to do it their way," he said.
"So I imagine there could be some red tape there, but I don't have a concern about it."