Georges St-Pierre finally announces Michael Bisping fight date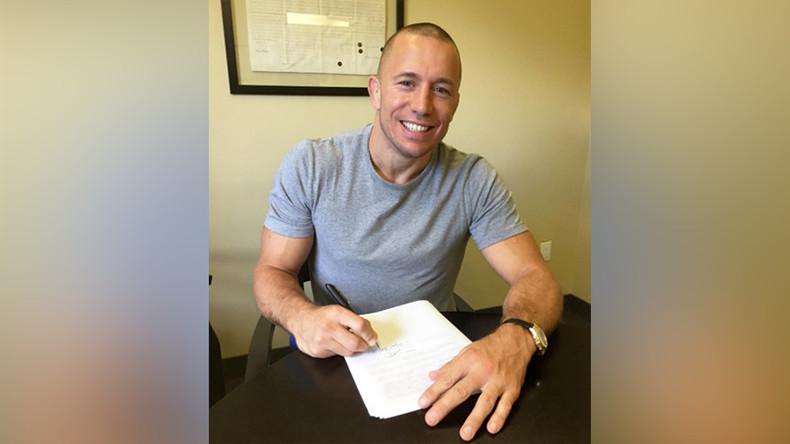 Canadian UFC legend Georges St-Pierre has finally announced the date for a much-anticipated fight against middleweight champion Michael Bisping, which will take place at New York City's iconic Madison Square Garden at UFC 217 on November 4.
St-Pierre took to social media on Wednesday to officially announce the fight date.
"Finally signing my UFC 217 Bout Agreement vs. Michael Bisping for Nov. 4 at MSG – Get ready for a big night in NYC!!!" the former welterweight UFC champion said in the caption to the picture of him signing the papers, on Instagram and Twitter.
The upcoming fight between the two, which will mark St-Pierre's Octagon comeback after a four-year break, was originally announced in March at a specially-organized press conference at the T-Mobile Arena in Las Vegas.
The actual date, however, had been up in the air since then.
READ MORE: 'I have a master plan for my comeback' – UFC legend Georges St-Pierre to RT Sport (VIDEO)
Talking to RT Sport in April, St-Pierre hinted that it would happen in the upcoming fall, rather than in the summer.
He also admitted that he might have a master plan for his comeback, collecting championship belts in two different weight classes to meet the only man to have done it so far, Conor McGregor.
Another fighter who earlier stated his intentions to take part in UFC 217 is undefeated Russian Khabib Nurmagomedov.
READ MORE: 'I'm aiming for November 4 to fight Ferguson in NYC' – Khabib Nurmagomedov
Talking to RT Sport last month, the Dagestan native revealed that he had been offered an interim lightweight title fight against American Tony Ferguson on October 7, but declined due to his ongoing rehabilitation following health issues that appeared during the weight cut in March before the fight between the two at UFC 209, which led to the cancellation of the bout.