'Black women: Be fearless!' – Serena Williams pens essay on equal pay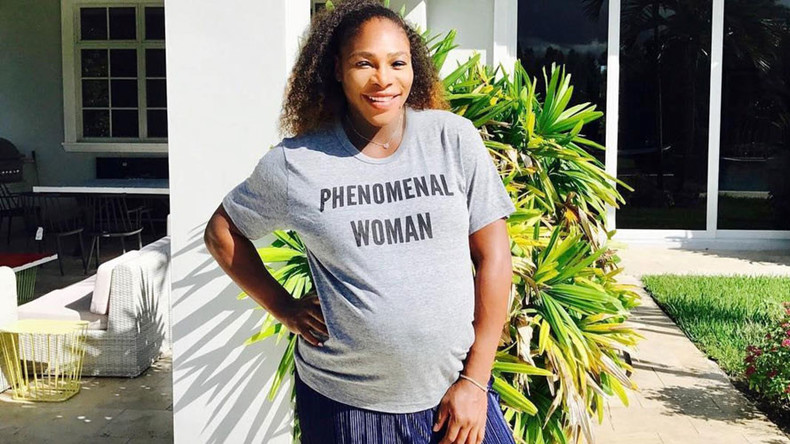 American tennis superstar Serena Williams has published an essay dedicated to Black Women's Equal Pay Day, which fell on July 31.
Williams, a 23-time Grand Slam winner and one of the highest-paid athletes in tennis, has addressed the issues that black women face in America, publishing her essay on fortune.com on Monday.
"The cycles of poverty, discrimination, and sexism are much, much harder to break than the record for Grand Slam titles. For every black woman that rises through the ranks to a position of power, there are too many others who are still struggling," Williams said.
July 31 is Black Women's Equal Pay Day. Black women are the cornerstone of our communities, they are phenomenal, and they deserve equal pay. pic.twitter.com/XOHyIdbYPc

— Serena Williams (@serenawilliams) July 31, 2017
The date for Black Women's Equal Pay Day, the end of the year's seventh month, symbolizes the seven extra months which black women need to work to make as much as white men do on average in a year.
Williams admitted that she is "in the rare position to be financially successful beyond my imagination," but said her career hasn't been easy.
"I have been treated unfairly, I've been disrespected by my male colleagues and—in the most painful times—I've been the subject of racist remarks on and off the tennis court. Luckily, I am blessed with an inner drive and a support system of family and friends that encourage me to move forward. But these injustices still hurt," she said.
READ MORE: Williams blasts Nastase over 'racist & sexist' comments, backs official probe
"Black women: Be fearless. Speak out for equal pay. Every time you do, you're making it a little easier for a woman behind you. Most of all, know that you're worth it. It can take a long time to realize that. It took me a long time to realize it. But we are all worth it. I've long said, 'You have to believe in yourself when no one else does,'" she added at the end of the essay.
Earlier in the summer, former tennis player John McEnroe sparked controversy when he said that if Williams played on the men's professional circuit, "she'd be like 700 in the world." That prompted Williams to fire back on Twitter.
"Dear John, I adore and respect you but please please keep me out of your statements that are not factually based," she tweeted.
I've never played anyone ranked "there" nor do I have time. Respect me and my privacy as I'm trying to have a baby. Good day sir

— Serena Williams (@serenawilliams) June 26, 2017
"Respect me and my privacy as I'm trying to have a baby," added the 35-year-old Williams, who had revealed in April that she was expecting her first child.