'If Bellator wanted an easy 1st fight for Mousasi, I'm the wrong pick' – Alexander Shlemenko
Published time: 17 Jul, 2017 17:32
Edited time: 17 Jul, 2017 19:42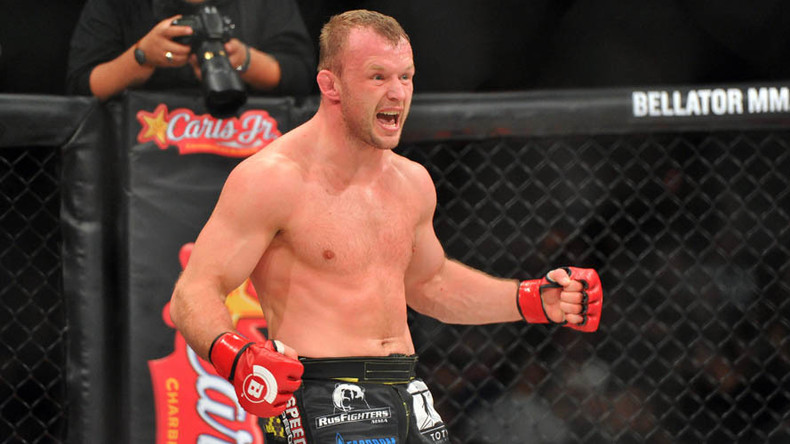 Following Bellator's announcement about signing UFC's number four ranked middleweight Gegard Mousasi on a six-fight deal, the company announced his first fight in the promotion will be against Russian Alexander Shlemenko.
Both Shlemenko and Mousasi head into the fight on a five-win streak, with the Russian claiming three of them by way of a finish, and with four knockouts for the Dutchman. When RT Sport first talked with the 33-year-old Shlemenko after the news of Bellator's signing of the Dreamcatcher, he was somewhat tight-lipped.
READ MORE: 'I'll fight Mousasi if it's for the title' – Bellator's Alexander Shlemenko
However, speaking to the Russian again following the announcement of the fight against Mousasi, we learned this initial reluctance to open up was because he had been in talks with Bellator.
RT: You first said you would accept this fight only if it was for the championship belt, but then we learned that right in Mousasi's first Bellator bout he'll face you. What changed?
Alexander Shlemenko: Originally Bellator offered me a different date, September 23, which didn't work for me because as I said earlier, I'm currently focused on training my student, Andrey Koreshkov, who will come back to Bellator at the end of August, and I'll corner him in this fight. Plus I'd want to fight Mousasi in a five-round fight. But the October 20 offer worked for me so we agreed on it. Although I'll have to cancel some plans to be fully prepared for the fight.
RT: Considering that you'll be in the States closer to the beginning of September with Koreshkov, will you stay all the way until your own fight on October 20?
AS: No, I'll go back home to Omsk, Russia and train in the Storm gym, and then go to America about two weeks prior to the fight. So I'll have to go back and forth. But I think there will be enough time to acclimatize.
RT: Considering your current overall ratings, with Mousasi being in the top five and you getting closer to the top 10, does it give you additional motivation coming to this fight?
AS: Of course, this is the only way for me to move up, I have to fight stronger opponents. Bellator told me some time ago that they have some surprise fight offer for me this fall. So when they signed Mousasi, I realized right away that that was they fight they were talking about.
RT: What do you see as your advantage in this fight? And what advantage does your opponent have?
AS: I'll rely on my striking game as I always do. If we talk about my opponent, he's taller than me, has better reach. He's also heavier than me, as he cuts much more weight than I do. But it won't be the first time I fight a bigger opponent. That was the case most of my career. I don't like to cut a lot of weight. He is a well-rounded fighter, he can go for a knockout, but also has good ground skills, and can go for a submission.
RT: Most of the fans see you as an underdog in this fight. What's your take on that?
AS: I've been considered an underdog almost all my career, yet look at my record, I have over 50 victories. So it doesn't bother me at all. Some people say that Mousasi won't have any issues in the fight with me. But if Bellator wanted to give him an easy fight, then I'm definitely the wrong pick. There are enough fighters in the middleweight division in Bellator who would be much easier opponents for him. But I'm the highest-rated fighter next to him in this organization and they offered this fight to me. So that's good matchmaking on their part. Even current middleweight champion Rafael Carvalho is rated lower than me. So we can look at it from different points of view. Maybe Bellator wanted to promote Mousasi, making our fight. But they could also be looking to promote me. Anyhow, we'll learn who's better in the fight.