Oleynik does it again: Russian MMA veteran wins with unusual choke at UFC 213 (VIDEO)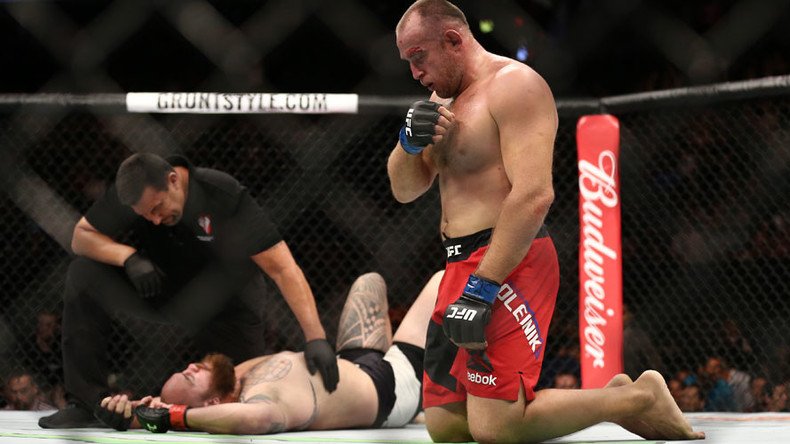 Russian submission artist Alexey 'The Boa Constrictor' Oleynik recorded yet another victory on Saturday night, choking his opponent Travis Browne in the second round of their bout at UFC 213 in Las Vegas.
The 40-year-old Kharkov, Ukraine native, who started his professional MMA career two decades ago and has an incredible record of 42 submission victories, was facing 6ft 7in American Browne in his fifth UFC fight.
Knowing his opponent's submission ability, the taller Browne initially did a good job of keeping Oleynik at a distance, landing dozens of kicks on the Russian. In the last minute of the first round, however, 'The Boa Constrictor' finally took his opponent down, although the time remaining proved not enough for Oleynik to submit the 34-year-old Hawaiian.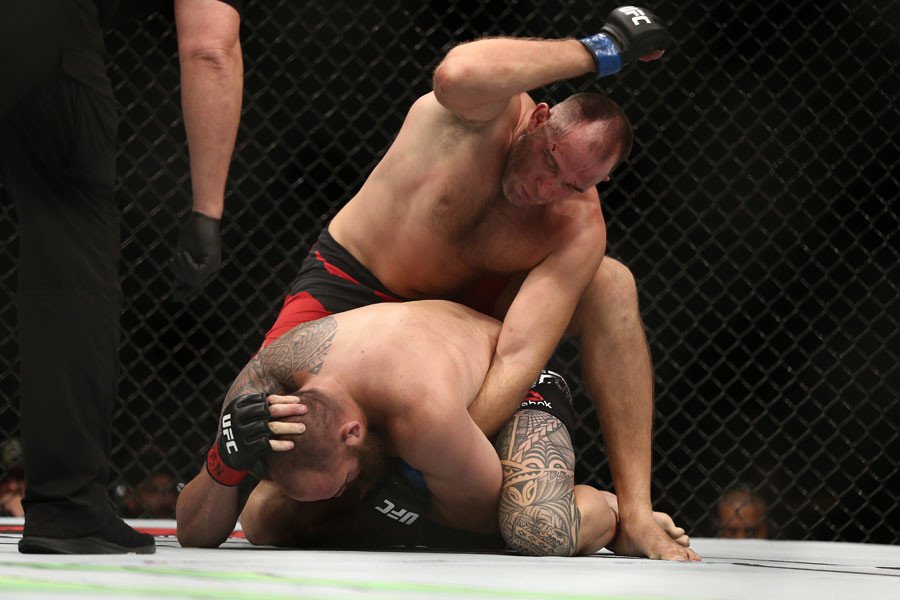 Starting the second round by applying pressure and constantly cutting the distance to his opponent, Oleynik finally achieved what he wanted, transferring the bout to the ground.
With two minutes left, he got behind Browne's back and slid to the right side of his body to execute an unorthodox rear-naked choke. Although Oleynik didn't appear to get his arm under his opponent's chin, the pressure was enough to make Browne tap within 10 seconds, after the Russian locked the choke and stretched his legs across the American's body.
The loss was the first-ever submission defeat for the former basketball player in his professional MMA career.
The submission artist that is Alexey Oleinik just took down the No. 9 heavyweight in Travis Browne with the choke! https://t.co/vnVqJYFD2M

— FOX Sports: UFC (@UFCONFOX) July 9, 2017
At the beginning of the year, Oleynik wrote his name in the UFC history books when he recorded the first-ever victory with a so-called 'Ezekiel choke', which he executed in his defeat of Viktor Pesta.
READ MORE: First in UFC history: Russian fighter wins with unusual choke hold
The spelling of Oleynik's name confuses many, with a number of different versions available on various websites. The reason for this lies in the fact that Oleynik, who was born and raised in Ukraine but received Russian citizenship in 2015, now has two different English spellings of his first name and surname, transferring Cyrillic versions from two similar languages into English in his official documents, past and present.
This was something the veteran was asked about by the media after the fight, when he stressed that his name should be written as Alexey Oleynik. His Sherdog profile has also recently been updated with this version and his country of residence, Russia.
You can share this story on social media: