First in UFC history: Russian fighter wins with unusual choke hold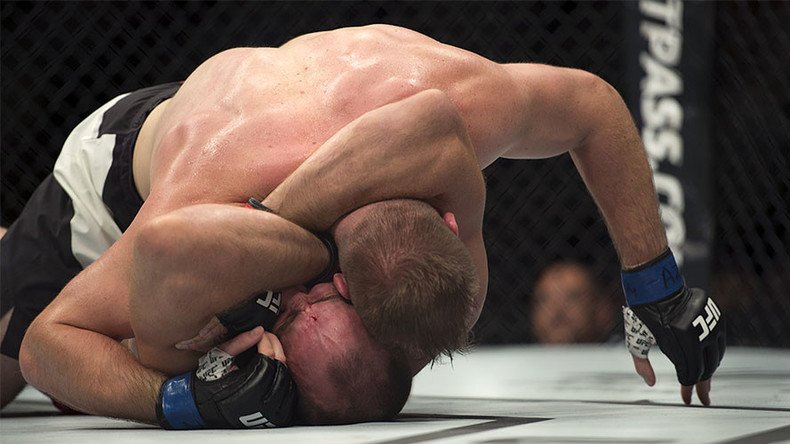 Russian UFC heavyweight Aleksei Oleinik - well known for his ability to choke his opponents, which has earned him the nickname 'The Boa Constrictor' - has now written his name in the promotion's history books, being the first to win with a so-called 'Ezekiel choke.'
MMA veteran Oleinik, 39, performed the move when fighting Viktor Pesta from the Czech Republic at UFC Fight Night in Phoenix, last Sunday, January 15.
After exchanging a few strikes with his younger opponent at the beginning of the first round, the Russian took it to the ground, where they went back and forth, with Pesta seemingly taking control of the situation at one point, landing some hard hits on Oleinik's head from the top.
READ MORE: Protect yourself at all times? MMA fighter KO's opponent during glove touch at start of bout (VIDEO)
But while on top of the Russian, who was lying on his back, Pesta tried to go for a choke - and that's when the Czech landed in trouble. Oleinik wrapped his right arm around the Czech's neck and then slid the left one under his throat, forcing him to tap - at just under three minutes into the fight.
When once describing the move to Russian MMA journalist Alexander Lyutikov, the fighter had called it the 'Oleinik choke.'
"The Ezekiel choke is done using your Judo robe. I am doing it without one. So let it be the 'Oleinik choke' then. But it doesn't matter what it's called, as long as it works."
The move known as the Ezekiel choke was named in memory of Ezequiel Paraguassu, a Brazilian judoka, who was famed for defeating his opponents by using it.
But whatever you want to call it, there's no changing the fact that Oleinik scored the first ever win with that kind of choke in UFC history.
You can share this story on social media: