Russian MMA veteran lands amazing spinning wheel kick KO as ACB delivers night of finishes (VIDEO)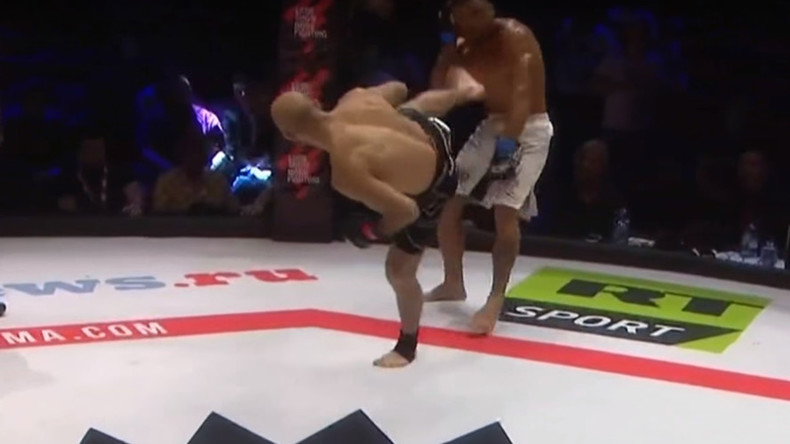 Russian mixed martial arts veteran Akop Stepanyan landed a stunning spinning wheel kick knockout at the main event of ACB 62 in Rostov-on-Don, Russia, on Saturday - which also delivered nine finishes in all nine fights of the night.
Despite losing its main event fight between American Adam Townsend and Russian Alexandr Shabliy just a day before the tournament, and having a short card of just nine bouts, ACB 62 yet again fully displayed the promotion's concept of 'Less Show, More Fighting.'
The idea is based on providing evenly-matched fights without relying on pre-fight shows and notorious trash talk between the fighters – and the promotion delivered again in spectacular style.
Just a day before the tournament it became known that main event fighter Townsend did not make the weight category he fights in (160lbs), having 6lbs extra at the morning weigh-in.
It's known, however, that his opponent's team and ACB offered for him to step into the cage with a yellow card, on condition that his weight right before the fight did not exceed 167.5lbs (76kg), but Townsend later revealed that he did not accept the offer, describing it as "ridiculous."
Following the incident, Rostov native Shabliy said that he "has never witnessed such impudent and unprofessional behavior, on that level of fighting," talking to his followers on Instagram.
As a result their bout was canceled, while the co-main event between Russian veteran Akop Stepanyan and Brazilian Filipe Cruz was elevated to the fight of the night.
A 31-year-old St. Petersburg resident of Armenian descent, Stepanyan did not disappoint the fight fans gathered in the Express Arena in Rostov and those watching it online, delivering a stunning finish to the fight, which was later announced the knockout of the night by ACB.
In the last minute of the first round, the former Bellator featherweight executed a perfect spinning wheel kick, knocking out his Brazilian opponent.
The Brazilian immediately lost consciousness, falling straight to the canvas. And although he woke up as he hit the ground, referee John McCarthy had already waved the fight off.
The rest of the fights on the tournament card didn't disappoint fight fans either, as none of them went to a decision.
It seems that ACB's recent innovation of giving a $5,000 bonus to each fighter finishing by stoppage worked out for the promotion. It also adds to their previously-introduced practice of giving bonuses for the best knockout, best submission and best fight of the night (currently $10,000).
Here you can see all the results and finishes of the fights at ACB 62.
Akop Stepanyan def. Felipe Cruz by knockout (wheel kick). Round 1, 4:38
Jonas Billstein def. Grachik Bozinyan by submission (choke). Round 2, 4:11
Alexander Peduson def. Artak Nazaryan by TKO (punches). Round 1, 3:29
Dovletdzhan Yagshimuradov def. Jared Torgeson by submission (rear-naked choke). Round 3, 0:39
Valeriy Khazhirokov def. Isaac Pimentel by TKO (punches). Round 3, 2:56
Sergey Belostenniy def. Dmitry Zabolotny by TKO (punches). Round 2, 2:51
Sergei Martynov def. Daniyar Abdibaev by TKO (punches). Round 3, 3:12
Narek Avagyan def. Anton Vasiliev by submission (armbar). Round 1, 0:59
Evgeniy Belyaev def. Hayk Gasparyan by submission (heel hook). Round 1, 1:12