It's on! Mayweather Jr & McGregor finalize Vegas mega-fight for August 26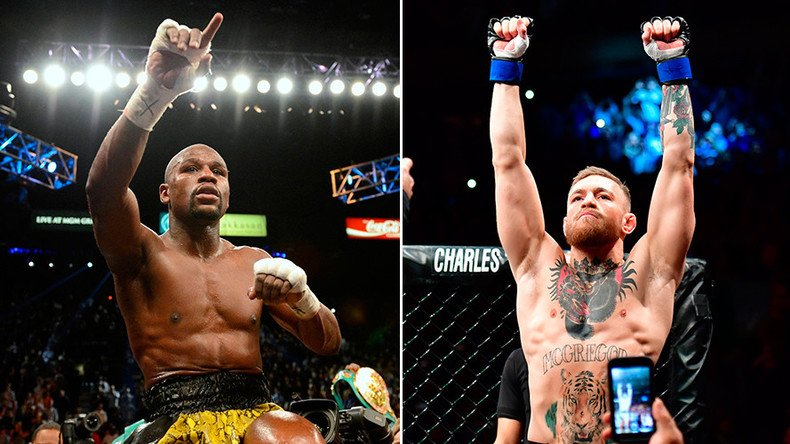 Boxing icon Floyd Mayweather Jr and MMA superstar Conor McGregor have finalized a long-anticipated deal for an unprecedented fight against each other in Las Vegas on August 26.
The boxing match has been confirmed by both Irish fighter and former American boxing legend on social media on Wednesday.
McGregor was the first to tweet, writing: "The fight is on," alongside a photo of himself and Floyd Mayweather Sr, his future opponent's father and trainer, to point out the age difference between the pair, while also following his typical trolling manner of promoting the fights.
Mayweather, however, simply went for a promotional poster video of the event, with the tagline: "It's official."
The mega fight will take place in Las Vegas on August 26. The venue has not been confirmed but according to reports in media that appeared earlier, Mayweather Promotions have reserved the MGM Grand Garden Arena.
Both men are expected to receive in excess of $100 million for the historic fight, but the terms of the deal have not yet been divulged.
Forty-year-old Mayweather is considered the greatest boxer of his era, retiring with a 49-0 pro record from 1996 through 2015. The upcoming fight will give him an opportunity to take the record to perfect 50-0, as the bout will be a professional boxing match sanctioned by the Nevada Athletic Commission.
McGregor, meanwhile, has never competed in a professional boxing bout, but has been successful in mixed martial artists, collecting two championship belts in two different weight classes in the leading MMA promotion Ultimate Fighting Championship (UFC).
Social media is unsurprisingly abuzz with reaction as sports fans and MMA and boxing journalists are getting ready for what's expected to be one of the most financially successful events in combat sports history.