FIFA refuses to punish Saudi players over London attacks snub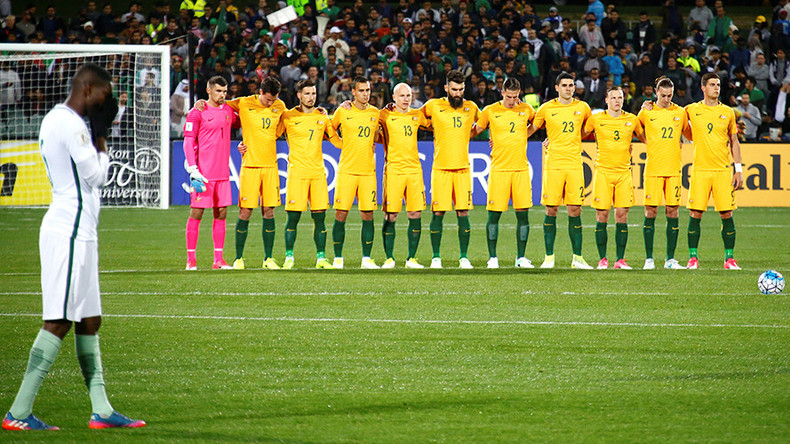 FIFA has refused to punish the Saudi Arabia men's national football team after they snubbed a minute's silence in memory of the London terrorist attack victims before a World Cup qualifier against Australia.
Eight people - including two Australian nationals - were killed and more than 50 injured when a group of three terrorists drove a van into pedestrians on London Bridge and then began stabbing revelers in London's busy Borough Market area on June 3, before being shot dead by police marksmen.
On Thursday, Australia met Saudi Arabia in their World Cup qualifier Asia group at the Adelaide Oval.
As the Australian team lined up with their arms around each other to pay their respects before the game, the Saudi players could be seen wandering around the pitch, actively refusing to take part and instead jogging and stretching.
However, FIFA announced it would not take any action against the players or the Saudi Arabian Football Federation (SAFF).
"After reviewing the match report and images of the said match, we can confirm that there are no grounds to take disciplinary action in relation to the matter you mention," FIFA said in a statement, Reuters reported.
Conversely, the SAFF said it "deeply regrets" the snub and apologized "unreservedly" for the incident in a statement.
"The Saudi Arabian Football Federation deeply regrets and unreservedly apologizes for any offense caused by the failure of some members of the representative team of the Kingdom of Saudi Arabia to formally observe the one minute's silence," the statement read.
"The players did not intend any disrespect to the memories of the victims or to cause upset to their families, friends or any individual affected by the atrocity," it continued.
"The Saudi Arabian Football Federation condemns all acts of terrorism and extremism and extends its sincerest condolences to the families of all the victims and to the government and people of the United Kingdom."
Australia won the match 3-2 in their penultimate game before taking part in the FIFA 2017 Confederations Cup tournament in Russia.
READ MORE: Australia claim vital World Cup qualifying win over Saudi Arabia
The Socceroos play Brazil in a friendly on June 13 before taking on Germany at Fisht Stadium in Sochi on June 19.