Runs in the family! Cristiano Ronaldo Jr displays dazzling dribbling skills at UCL final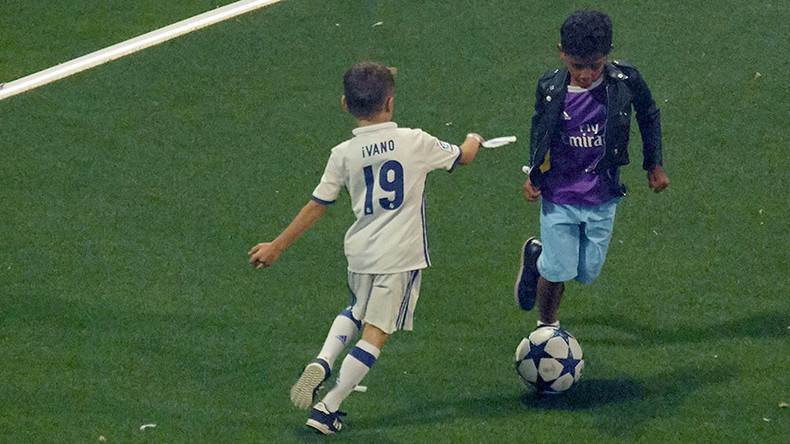 Cristiano Ronaldo Jr showed he's inherited his dad's famous fancy footwork with a goal worthy of winning the UEFA Champions League after Saturday's final between Real Madrid and Juventus in Cardiff.
READ MORE: Real Madrid win Champions League final, defeating Juventus 4 - 1
The six-year-old son of Portugal and Real Madrid icon Cristiano Ronaldo was filmed having a kickaround with three other youngsters after the final, which Real won 4-1 with the help of two goals from the elder Cristiano to clinch a record 12th European title in Wales.
In the video, Cristiano Jr can be seen blocking a shot by one player before picking it up on the right-hand side of the box and looking to take on two players.
After sprinting past one defender and into the middle of the box, Cristiano Jr is confronted by the player and the defender, both of whom have regrouped.
With his back to goal, the younger Ronaldo beats both defenders with an effortless turn before bearing down on goal and poking the ball past the goalkeeper, much to the delight of the Real fans behind the goal.
The children were playing on the pitch as Real team members celebrated their victory at the National Stadium of Wales.
The youngster, who is called 'Cristianinho' by family members, which means 'little Cristiano' in Portuguese, was present in the tunnel after the game when his dad met with Sir Alex Ferguson, who coached the elder Cristiano at Manchester United.
"He's a fantastic person. He taught me many things. He's like a father in football," Ronaldo later said of his former mentor.
Also forming part of Ronaldo's entourage at the final celebrations was family matriarch Dolores Aveiro.
The final also saw a return to home soil for Welsh international captain and Real Madrid winger Gareth Bale, who appeared as a 77th-minute substitute for forward Karim Benzema.
Real's win meant Zinedine Zidane's men became the first team in Champions League history to retain the trophy since the competition was reformatted in 1992.