MMA fighter proposes to his girlfriend in the cage after dramatic bout at ACB 61 (VIDEO)
Published time: 25 May, 2017 14:04
Edited time: 25 May, 2017 14:30
While it's common for athletes to take the opportunity to publicly express their feelings at different sports events, it's not seen that often in combat sports – especially in the most brutal and intense of them of all, mixed martial arts.
MMA fighter Vasiliy Palyok (8-5) decided to buck that trend, however, and had a special surprise for his girlfriend Tatyana after his fight at the ACB 61 event in St. Petersburg, Russia, last Saturday. Although he lost the fight to Alexei Martynov (11-7) via unanimous decision, the story before that bout says a lot about why it was a moral victory for Vasiliy.
Born in a small Ukrainian village, Vasiliy moved to St. Petersburg five years ago to follow his dream of becoming a professional MMA fighter and coach.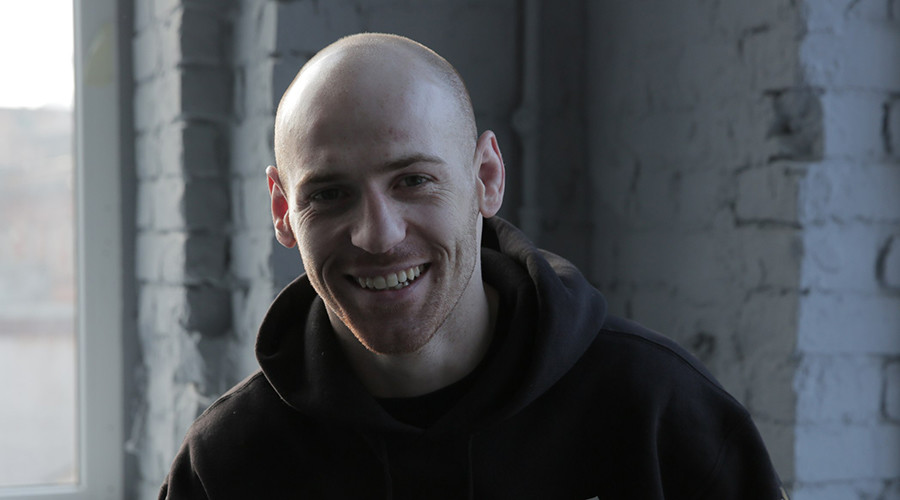 Going through hard times, working on construction sites and living in the basement of a gym never seemed to bother Vasily, who would accept any fights offered to him, including those at short notice and against opponents in higher weight categories.
Accepting yet another bout at short notice, and against an opponent who was guaranteed to be up to 30lbs heavier than him, Vasiliy was driven by a bigger goal than just money.
In fact, it was something he'd been planning for a long time: a marriage proposal to his girlfriend, Tatyana. And he knew that he wanted to make it in the city he now calls home, St. Petersburg.
And while he lost the fight on a decision, he later revealed to RT Sport that his biggest fear was losing by knockout or, even worse, by being choked out – something that's happened to him a few times before, causing him to lose consciousness.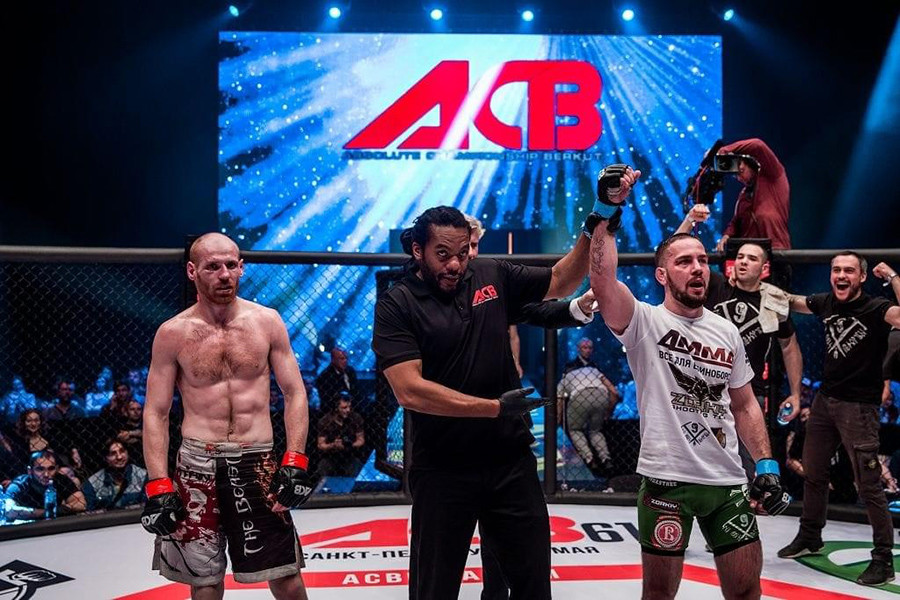 Right after the fight was over, he asked the ring announcer for the microphone. While thanking coaches and sparring partners, he asked Tatyana to come down to the cage. The unsuspecting Tatyana looked surprised as she stood in the cage, not knowing what to expect from Vasiliy. A possible apology for a recent argument they'd had was one thing that went through her mind, she later revealed to RT Sport.
"My dear, I want to thank you for your patience," Vasiliy began.
"You have always accepted me, no matter whether I win or lose.
"That's why I have an offer for you."
"Please, be my wife," Vasiliy said, getting down on one knee and handing his girlfriend a small box with a ring inside.
The watching fight fans burst into applause.
A shocked Tatyana, who covered her face with both hands, seemed to find the situation surreal.
Eventually it dawned on her that she had to react to the proposal, which she eventually accepted.
"If you're willing to further tolerate and keep forgiving me – I'm all yours," added Vasiliy, to a happy hug from his now-fiancée.
However, the proposal wasn't the only surprise of the night. As the happy couple were about to step out of the cage, they were stopped by the ring announcer, who asked them to wait a little while.
Entering the cage to congratulate the pair, ACB President Mairbek Khasiev took the opportunity to give them their first engagement present – a brand new Toyota Corolla car.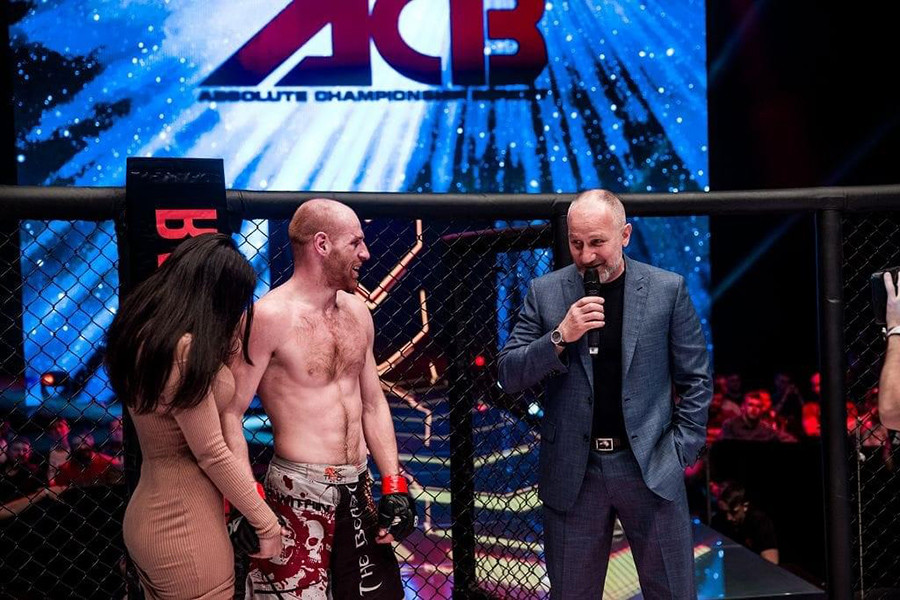 "We should turn this into a tradition at our events, in doing so helping Russia bump up its population," Khasiev joked.
Talking to RT Sport after the event, Vasiliy and Tatyana spoke more about their relationship and the surprise proposal.
Vasiliy: "I had this planned for the last year and a half. We were dating for four years, and the last two years we've been living together. I always wanted to propose exactly this way, exactly in the cage, exactly in St. Petersburg and exactly at ACB.
"I wasn't supposed to be on the card, but I told ACB that if any fighter pulled out in my weight category – which is featherweight or even in lightweight – I'm 100 percent ready to step in at short notice. The only fight that eventually needed a replacement was at welterweight. I accepted the fight anyway, even though I knew my opponent would be much heavier than me, as I know that he cuts a lot of weight for the fights.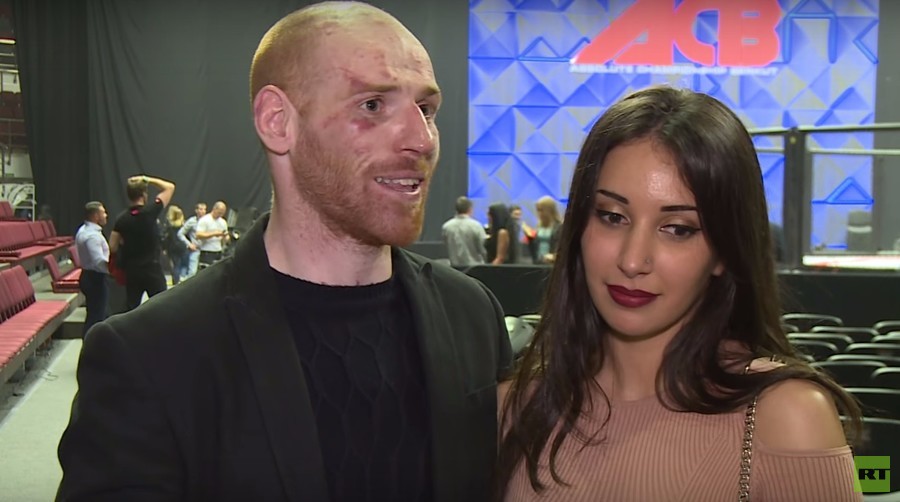 "I did all that so I could propose in St. Petersburg. Of course I wanted to win, but another thing that was on my mind was not to get knocked out or injured, because then nothing would happen. I lost on a decision, but I figured I shouldn't wait for another chance because it might take a year or two and I went for it.
"We went through a lot of things together. At one point I could have faced five years in jail, but she was always with me while I was in custody, visiting and waiting for me throughout. My charges were eventually dropped, as I was innocent, but she said that she would wait for me no matter what."
Tatyana: "It was a big surprise for me. Just before the fight we had an argument over some silly thing. He even moved to another place and I didn't know where he was. He told me that most likely we wouldn't be together anymore.
"He didn't even talk to me after that, so I had no clue whatsoever, but it turns out it was all done just to surprise me. I came here tonight just to support him in his fight because for me he is always my champion. I never would have guessed something like that would happen."
While that night seemed to be something of a fairy tale for the young couple, life can sometimes be tough for them.
Tatyana has a daughter from a previous marriage and works a nurse. Vasiliy works as a coach in the local gym in St. Petersburg, and picks up any fights he can, looking to make some extra money so he can provide for his family.
The young couple have also recently started a lease to pay for an apartment outside of St. Petersburg.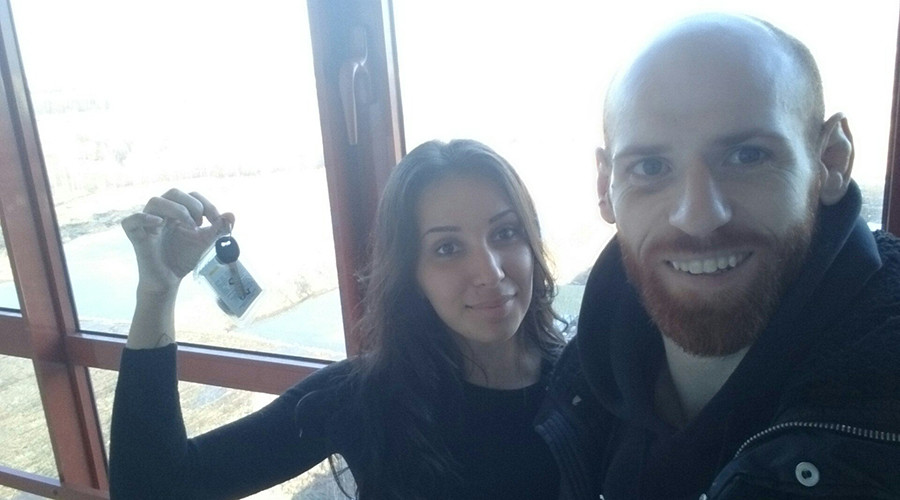 Living far from the city means Vasiliy and Tatyana spend an hour and a half commuting to work. Buying a car was something they'd planned to do in a couple of years. The unexpected gift, however, will help them a lot, Vasily told RT Sport.